Ms. Heard is from Mobile, AL and is a third-year Tuskegee University Robert R. Taylor School of Architecture and Construction Science student. She is set to graduate in December 2022.
This summer I was honored to be selected as a participant for Touching History: Preservation in Practice, and it has truly taught me a lot about historic preservation. Touching History is a program developed by the Advisory Council on Historic Preservation, National Park Service, and the National Trust for Historic Preservation's HOPE Crew. It was created to help students at Historically Black Colleges and Universities (HBCUs) gain more interest in historic preservation.
During the program I got to travel across the United States to learn, network, and do great work. On our first stop to Natchitoches, Louisiana, we spent time at the National Center for Preservation Technology and Training (NCPTT) learning how to care for different building materials. It was very interesting to me, because I never gave much thought to how to remove vandalism and dirt from stone.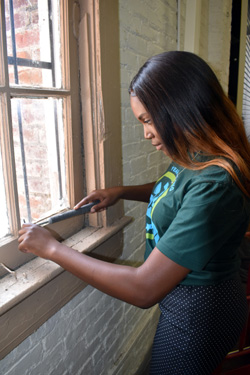 After Louisiana, our next stop was the mountainous Grand Teton National Park in Wyoming. The views in Wyoming were stunning, and the surrounding nature was humbling. In Grand Teton we were very hands on, helping with the Bar BC Dude Ranch. We built cribbing to help the crew lift the log cabins, and we also helped build a deck. I thoroughly enjoyed hammering nails into the wood. Our second week there we learned how to determine a building's significance. This also was very interesting to me, because growing up I knew the importance of historic buildings, but I didn't understand how much time and effort it took to preserve them.
After traveling across the United States, we came back to our very own campus to complete one last project. Tuskegee University's campus is full of historic buildings that were built by the students themselves. Many of them need care. For our project we decided to restore some windows on one of our School of Architecture buildings. While repairing the windows I felt as if I was paying homage to the students who built the school so that I could learn in a safe and comfortable environment.
I am grateful that I was a part of this program, for it has changed my life. I believe historic preservation is the future—my future. In addition, my summer internship really opened my eyes to how I can help my family. I am now interested in helping to preserve my grandfather's farm. On the farm, he has barns and other structures that he built himself that have been standing for around 50 years. I believe his farm is a perfect glimpse into farming life for African Americans before large technological farming advancements and needs to be shared with the world.
I think everyone needs to know about the power of historic preservation. Throughout the years there are many stories that have been left out of the book. I strongly believe the historic fabric of our country needs to be more diverse. We need to learn everyone's story, because we cannot fully move forward without knowing all aspects of our past. Historic preservation has the power to change it all.