Jobs and Internships
There are many ways to obtain a career in the historic preservation field, and not all of them are as straightforward as you might think! Visit the ACHP's series on preservation professionals, "These are the Preservationists in Your Neighborhood," to learn more about preservationists and the sometimes circuitous routes they take to find their jobs.
National Trust for Historic Preservation's Preservation Job Board - Find or post preservation jobs, internships, and Requests for Proposals. Browse the listings often to build your preservation career!
PreserveNet - Regularly updated professional employment and internship opportunities for those in the preservation industry and allied fields.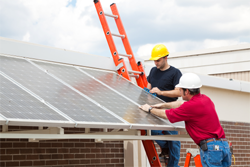 HOPE Crews - The National Trust for Historic Preservation offers preservation craft training for young people through Hands On Preservation Experience (HOPE) crews, which help rehabilitate historic sites while learning best practices for preservation. Crews have been formed across the country to work with historic sites.
National Register of Historic Places - Learn more about the many different organizations in the preservation field.
Internships
Bureau of Land Management Internships
National Park Service Internships
These links are being provided as a convenience and for informational purposes only; they do not constitute an endorsement or an approval by the ACHP of any of the products, services or opinions of the corporation or organization or individual. The ACHP bears no responsibility for the accuracy, legality, or content of the external site or for that of subsequent links. Please contact the external site for answers to questions regarding its content, including its privacy policies.