Educational Opportunities
Learning Tools for Aspiring Preservationists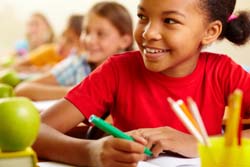 The ACHP and partner organizations offer many educational opportunities for students of all ages, from lesson plans for secondary students to undergraduate and graduate courses, and continuing education.
Click here to learn about and register for ACHP Section 106 review process classes held throughout the country year-round.
Click here for lesson plans for middle to high school levels on American and world military history offered by the Department of Veterans Affairs National Cemetery Administration.
Click here for education resources from the American Battle Monuments Commission.
Click here for the National Park Service (NPS) Teaching with Historic Places website, which offers many tools for students and educators, including on-site programs at national parks throughout the country and online lesson plans.
Click here for the Bureau of Land Management's Learning portal, a resource guide for students, teachers, tourists, and more for educational tie-ins to America's public lands.
Click here for the National Council for Preservation Education that offers resources to research higher educational opportunities at colleges and universities across the country that offer certificates, associate's, bachelor's, and graduate degrees relating to the preservation field.
These links are being provided as a convenience and for informational purposes only; they do not constitute an endorsement or an approval by the ACHP of any of the products, services or opinions of the corporation or organization or individual. The ACHP bears no responsibility for the accuracy, legality, or content of the external site or for that of subsequent links. Please contact the external site for answers to questions regarding its content, including its privacy policies.