WASHINGTON, D.C. – Professor Sara Bronin testified today before the Senate Committee on Energy and Natural Resources in Washington, D.C. on her nomination to become chairman of the Advisory Council on Historic Preservation (ACHP). President Joe Biden nominated Bronin in June for the chairman position.
Bronin is a Mexican American architect, attorney, and policymaker specializing in historic preservation, property, land use, and climate change. She is a professor at the Cornell College of Architecture, Art, and Planning and an Associated Faculty Member of the Cornell Law School. She is a board member of Latinos in Heritage Conservation and an advisor for the National Trust for Historic Preservation and the Sustainable Development Code.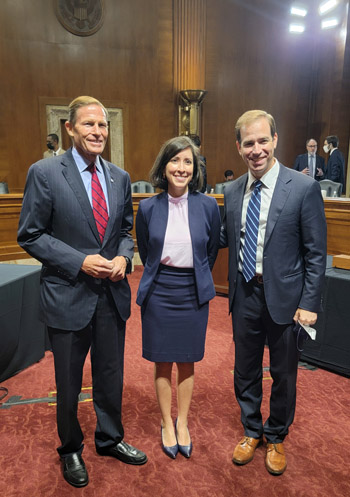 U.S. Senators Richard Blumenthal and Chris Murphy of Connecticut introduced Bronin at the hearing, both emphasizing her unique qualifications to be the ACHP chairman.
"She has demonstrated as a graduate of the University of Texas with a degree in architecture and of Yale Law School with a law degree that she has an understanding of both the legal and technical facets that are required for someone in this leadership position," Sen. Blumenthal told the committee. "She has a devotion to equity and inclusiveness as core interests and values in her work."
"Sara Bronin has been one of the most important contributors to our state's discussion around historic preservation," Senator Murphy said. "She's a nationally acknowledged expert on zoning and land use law. She's an architect, so she understands the practicality of buildings and building. I think you'll find someone here who has the right background, the right expertise, but also the ability to take some of the politics and controversy out of these ideas and bring people together."
Bronin addressed the committee, pledging to strengthen the ACHP's relationship with Congress by working with members to better tailor disaster recovery response to historic places, develop procedural efficiencies, and facilitate private investment in preservation through leasing or transferring historic federal properties and making the historic tax credit more accessible to rural Main Street and underserved communities. She also pledged to better support the 59 state and territorial historic preservation offices and the 574 federally recognized Indian tribes, including 204 Tribal Historic Preservation Offices and Native Hawaiian organizations.
"My passion for preservation comes from the recognition that historic, tribal, and cultural resources benefit us in unique ways," Bronin said. "They connect us with our past and give us a sense of continuity, identity, and belonging. They generate economic activity, both during rehabilitation projects and for many years after. They offer us a chance to be more sustainable. And perhaps more importantly, they guide our faith and center our spirits. Throughout my work, I have tried to ensure that communities of all kinds can benefit from preservation. I have found that there are many people who share our common commitment to protecting and celebrating the rich and complex stories that make us American."
During the hearing, Bronin responded to questions from committee members on early coordination with tribes and the role of historic preservation in economic development.
Committee members will have an opportunity to submit written comments and questions for Bronin, after which it will vote on how to report the nomination to the Senate. The nomination will then be scheduled for full Senate consideration and vote.