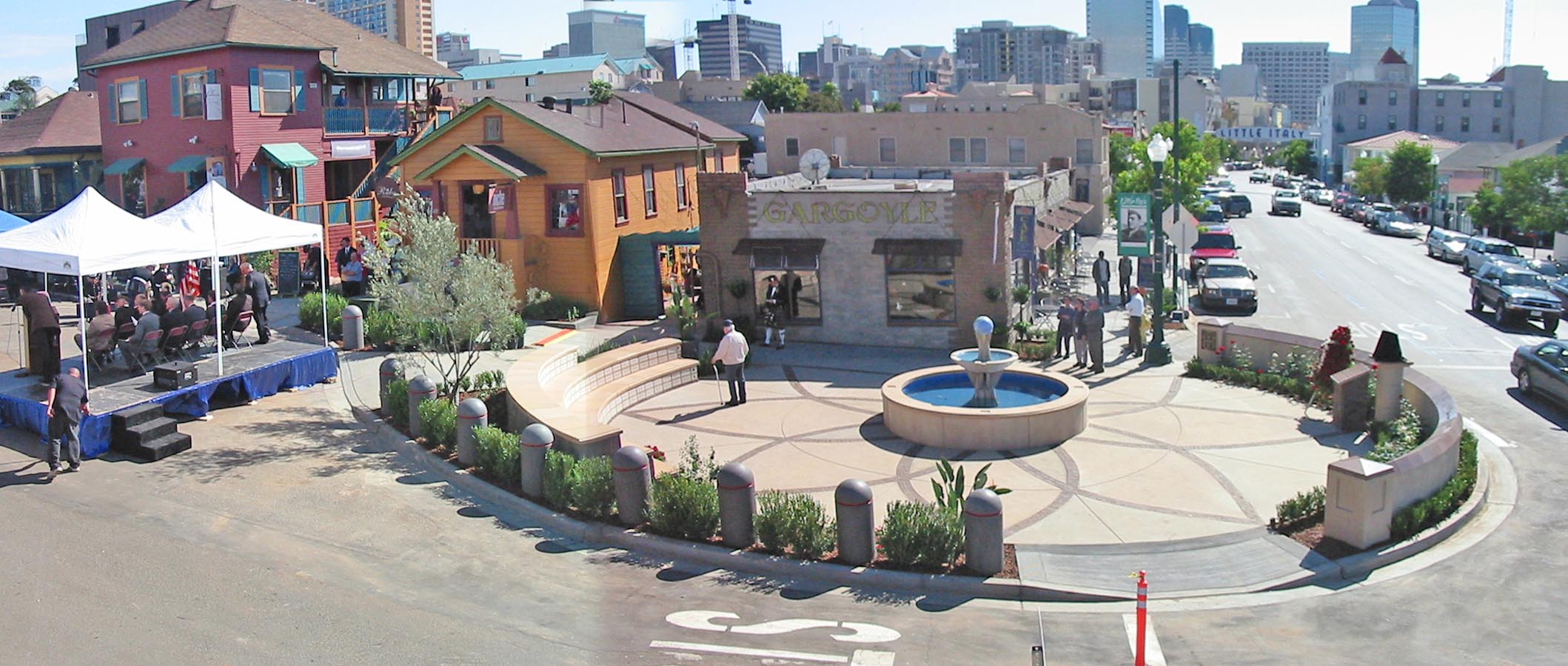 Little Italy (population 3,000), a neighborhood in San Diego, California, dates back to the early 1900s, when many Italians from Genoa and Sicily were drawn to the area by the climate and the geographical similarity to their homeland.
Many of the new arrivals had made their livelihood from fishing in Italy, and in California they continued that tradition. Italian immigrants who did not own or work on fishing boats often started seafood processing plants, seafood marketing businesses, or Italian restaurants specializing in seafood. At one time, more than 6,000 Italian families lived in Little Italy, and their hard work turned San Diego into the center of the world tuna industry.
These fishermen suffered setbacks during World War II, when the range of tuna boats was restricted, and the Navy requisitioned many of the larger boats. By 1959, the tuna clipper fleet shrank from 210 to 149 vessels. The area declined further when construction of Interstate 5 literally cut the neighborhood in two, displacing families to other parts of the city, although many maintained businesses in Little Italy and returned there to shop and worship.
Today, Little Italy is once again a vibrant neighborhood, with more than 400 businesses. It is downtown San Diego's oldest continuously operated neighborhood business district.
In 2004, the community created the Piazza Basilone as a public gathering space and war memorial. The plaza features a fountain banked by memorial tiles honoring the 12 young neighborhood men who were killed during World War II, Korea, and Vietnam.
The Pioneer Hook & Ladder Firehouse Museum, housed in the historic 1906 San Diego Fire Station 6 building, displays 150 years of firefighting history from around the world. Another Little Italy attraction is Our Lady of the Rosary Church (1925), with paintings by Italian artist Fausto Tasca, statues, and stained glass windows.
Each October, the Little Italy Festa attracts more than 100,000 visitors to enjoy Italian food, music, crafts, and Venetian Gondola rides. Other annual events include Carnevale (a Venetian-styled Mardi Gras), Art Walk, and Opera Nights, featuring strolling Italian opera singers.
Designated a Preserve America Community in July 2007.
For more information