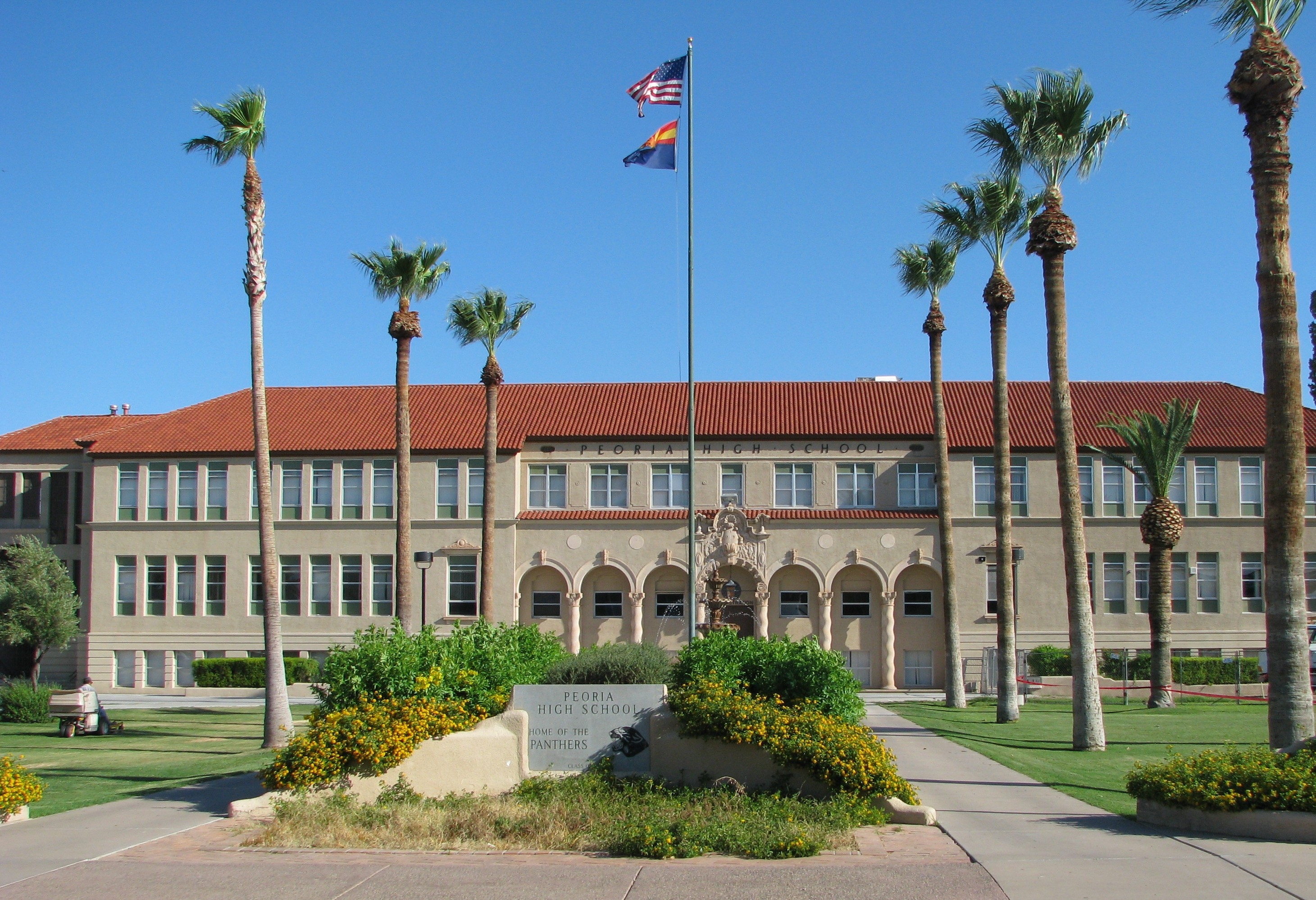 Peoria, Arizona, (population 155,684) a western suburb of Phoenix, was settled in the late 1880s after the completion of the Arizona Canal in 1885 provided irrigation to the area. Several families from the Midwest were persuaded to take a chance on the desert oasis. They would later name their new settlement after Peoria, Illinois, the town they had left behind.
Grand Avenue, a 100-foot wide thoroughfare running diagonally through Peoria, was established in 1887, connecting Phoenix to the Vulture Gold Mine. Along with the water tower nearby, Grand Avenue created the center of the young farming community. Residences sprang up around this town center, and by 1889 both a school and a Post Office had been established.  In the early 1890s, a spur of the Santa Fe Railroad was built alongside Grand Avenue. Both routes were used to transport the settlers' crops, including Pima cotton and alfalfa, to market, and brought goods and travelers to Peoria.
Although the one square mile town area was still largely a farming community when it was incorporated in 1954, other industries had also developed. Many businesses grew up along Grand Avenue (designated U.S. Highway 60) to cater to the needs of automobile travelers. Gas stations, auto repair shops, and diners served those driving between Phoenix and Las Vegas or Los Angeles, as well as local residents.
While Peoria covers more than 178 square miles today, its small town charm is still particularly evident in the city's Old Town area. Visitors can stroll past the 1899 First Presbyterian Church, listed in the National Register of Historic Places, and the first town hall/jail, built by the Works Progress Administration during the Depression. Peoria's Central School, a two-room Mission Revival style schoolhouse built in 1906, now houses the Peoria Historical Society Museum.
Community gatherings have been held for generations in Osuna Park and remain a local tradition. In recent years, a 1919 building that has served as the Woman's Clubhouse, the town's first moving picture theater, and its first public library, had to be relocated from the park. This deteriorating community landmark had also been a gathering place for dances, voting, blood drives, and classes.  The City partnered with the Woman's Club to rehabilitate the clubhouse, list it on the National Register, and install an interpretive plaque. Once the building was moved, a consulting archaeologist explored the site with community volunteers, recovering many artifacts dating to Peoria's early years.
Designated a Preserve America Community in February 2010.
For more information
City of Peoria Historic Preservation