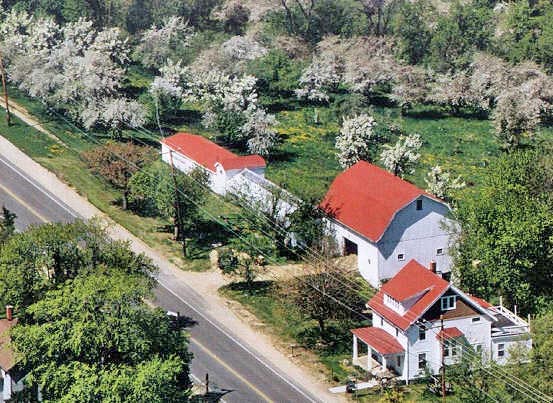 New Berlin, Wisconsin, (population 38,547) was first settled in 1836 in the southeastern corner of the state. It remained a small farming community throughout the 19th century. Two families, the Calhouns and the Elgers, were instrumental in the economic buildup of early New Berlin. Both families farmed; the Elgers owned a general store, and the Calhouns managed a town hall.
Another farm, owned by the Swartz family, was established in 1844 and became the largest farming operation in the area by 1940, growing alfalfa, apples, and raising Asiatic sheep. The farm is commonly known as the Swartz "Comfalfa Farms."
With the arrival of the Chicago and Northwestern railway in 1881, farmers were able to sell their crops father afield, and between 1850 and 1950, the town's population grew from 1,293 to 5,334. New Berlin became incorporated as a city in 1959.
Established in 1935, Weston's Antique Apple Orchard in New Berlin is the oldest active apple orchard in the county and is listed on the National Register. It was established on an existing farm and includes several historic buildings, including a Dutch colonial style barn that dates to 1906. Thanks to a public-private partnership, the orchard has become a cultural heritage tourism destination and education center that hosts nearly 2,000 visitors each season.
Weston's Orchards are included in the Prospect Hill Settlement Historic District because the grounds are an excellent example of a preserved turn-of-the-century farm. Every year, the Prospect Hill Historic Days Festival offers tours of the historic district, including Weston's orchard and the local landmark Freewill Baptist Church, conducted by volunteers in period costume. The event features an old-fashioned barn dance, a parade of antique farm machinery, and storytelling sessions for children. 
Designated a Preserve America Community in March 2007.
For more information
New Berlin Chamber of Commerce and Visitors Bureau