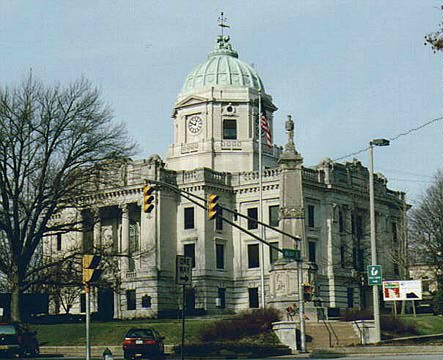 Monroe County, Indiana, (population 121,013) was officially formed in 1818 and named for sitting President James Monroe. Land sales had begun in 1816, and the first known settlers were David McHolland and his wife in 1817. 
The first businesses appeared in 1818 when John Ketcham built a water-powered grist mill on Clear Creek. By 1822, salt was being manufactured from the briny water of Salt Creek, and the first road was built in 1823. Richard Gilbert opened the first limestone quarry southeast of Stinesville in 1827. Limestone quarrying and milling are still important to the county's economy. 
Towns in Monroe County include Bloomington (the county seat), Ellettsville, Stinesville, Harrodsburg, Unionville, Smithville, and Clear Creek. Indiana University, in Bloomington, is an integral part of the county and dates back to 1823, when the State Seminary was built. The Monroe County Public Library was established in 1821 and contains extensive records of county history and genealogy in its Indiana Room. 
Monroe County grew dramatically in the early 1850s when the New Albany Railroad (now the Monon) was built through the county to New Albany. 
Maple Grove Road was an important transportation route in the 19th century, traversing an area that contains 12 houses and farmsteads, stone walls, and a cemetery and a church that are listed on the National Register of Historic Places. A driving tour takes visitors past six of these historic buildings. The city of Bloomington also offers a dozen historic walking tours, each with an accompanying brochure.  
Bloomington Restorations, Inc., a foundation for historic preservation in the county, is housed in the late 19th-century Hinkle-Garton Farmstead, which is undergoing restoration. The Monroe County History Center, a museum and historical and genealogical library, provides monthly programs and educational tours. 
Designated a Preserve America Community in December 2007.
For more information
County of Monroe Historic Preservation
Monroe County Historical Society