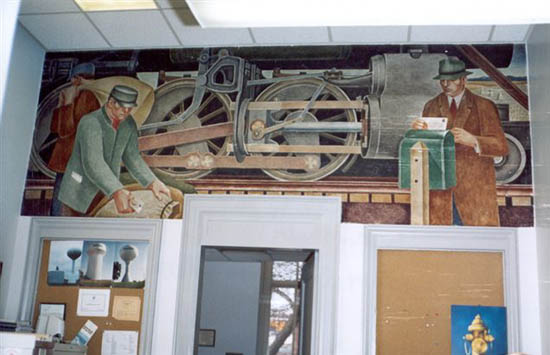 The original survey for the town of Marion (population 35,000) was completed in November 1839, and the community's first store was built in 1840. Named after Revolutionary War hero Francis Marion, the town was the first seat of Linn County until 1919, when Cedar Rapids' population overtook Marion's and voted itself the new county seat.
The largest influence on the economic growth of Marion was the railroad, which first arrived in the form of a wood-burning train on October 13, 1859. By the 1880s the railroad had brought a real economic boom, especially after the town was named the Division Point of the S.A. & D. Railroad in 1887. During those years, the railroad enticed many new residents and businesses into the downtown area near the depot. In 1918, Marion lost its designation as a Division Point, but continued to have freight and passenger service through the city.
Marion is home to two residential and one commercial historic district listed on the National Register of Historic Places. The Pucker Street and Terrace Park Districts took shape during and shortly after the railroad boom, and the Uptown Commercial District was a direct result of it. Many of these areas' original homes and buildings are still standing today.
In 1939, Dan Rhodes painted a mural for the new Marion Post Office, one of more than 1,000 post office murals commissioned by the Treasury Department as part of the recovery from the Great Depression. The mural was painted directly onto the wall in the post office lobby using the fresco technique. When the post office was sold, many community members and groups joined together with the City to preserve and relocate the fresco to the Marion Heritage Center, and the mural was unveiled in its new location in 2009.
Designated a Preserve America Community in July 2010.
For more information
City of Marion Historic Districts