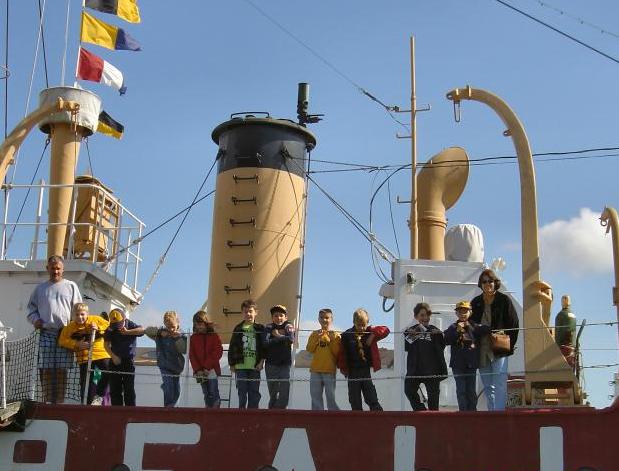 First settled in 1631 by Dutch colonists looking to establish a whaling community, Lewes, Delaware, (population 3,000) was the first colony in Delaware and has ever since played a pivotal role in Delaware's history. Lewes has been home to generations of Delaware River and Bay pilots and was once the largest fishing port in the United States.
The site of the current Canalfront Park is where, for more than 250 years, boats were built and launched into the canal. A Revolutionary War fortification was also built there, from which cannon fire was exchanged during the War of 1812 with a British ship anchored in the nearby Delaware Bay.
The Overfalls Maritime Museum Foundation owns the U.S. Lightship LV118, one of seven historic lightships in the country open to the public and the dominant feature of the park. It boasts the second most powerful foghorn ever put on a lightship; a horn that used so much air that the main engine could not be started while the horn was in use.
Adjacent to the Overfalls Maritime Museum is the Lewes Historical Society Life-Saving Station and the Cannonball House, which serves as the Lewes Maritime Museum. Guided tours are conducted at all three museums to acquaint visitors and residents with Lewes' historic connection with the sea.
The rich heritage of Lewes is celebrated through displays and print materials available at the Net House, which serves as the Canalfront Park headquarters. Built in the early 1950s, the Net House was a storage and repair facility for the netting that was used during the years when menhaden fishing in the Delaware Bay was Lewes' primary industry.
The Lewes Historical Society maintains and operates 12 museum buildings that document various aspects of Lewes' heritage as well as maintain archives, photo collections, a research library, and an artifact collection. The society is Lewes' primary information resource for local and regional history and sponsors public monthly meetings that feature speakers on a variety of local history topics.
Designated a Preserve America Community in November 2006.
For more information