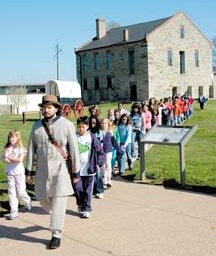 Fort Smith, Arkansas (population 80,000) was established by the U.S. Army on the banks of the Arkansas River in 1817. The post's mission was to bring peace to warring Indian tribes, but the military presence also promoted westward expansion. The Army garrison and a navigable waterway helped created trade opportunities, and in 1838 Fort Smith was incorporated as a town.
In the years that followed, Fort Smith was a gateway to the West for Native Americans, including those forced from their homes to travel the "Trail of Tears," a Confederate military installation, and, during Reconstruction, the demarcation point between civilization and the Wild West, where only outlaws dared to tread. Houses of ill repute catered to one of the many vices that were practiced, and enjoyed, openly, and outlaws such as the James, Dalton, and Younger Gangs, Belle Starr, Cherokee Bill, and the Rufus Buck Gang frequented the streets.
Today, Fort Smith boasts a diverse business and manufacturing base, known for its unique blend of southern hospitality and western openness. The Fort Smith Visitor Center is located in Miss Laura's, formerly one of the most celebrated bordellos in the Southwest, now included in the National Register of Historic Places.
Each year Fort Smith celebrates its history with the Frontier Fest, which takes place on the grounds of the Fort Smith National Historic Site, the historic Frisco Railroad Depot, and the River Parks complex overlooking the Arkansas River. The festival spotlights the lifestyles of fur trappers, the military, Native Americans, and the development of agriculture and transportation, Its Living History Timeline features a trail of vignettes portraying aspects of frontier life.
Designated a Preserve America Community in May 2006.
For more information