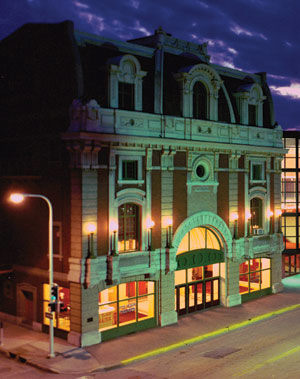 Dubuque (population 57,686) is Iowa's oldest city, founded in 1788 on a land grant from Spain by Julien Dubuque, the first European to settle in Iowa. Its location on the banks of the Mississippi River had already made it a center for fur trading and lead mining, and it remained a commercial port throughout its history.
Dubuque just commemorated the 150th anniversary of the 1854 Grand Excursion, a turning point in our country's westward expansion, after a 10 year planning effort that involved four states, more than 50 river communities, two dozen organizations, 16 ports of call and at least 500 special events and celebrations along the way.
The largest riverboat and steamboat flotilla in over a century followed the historic route up the Upper Mississippi River, and trunks full of artifacts and educational resources were sent to hundreds of schools to educate students about the heritage of their river communities.
Dubuque continually surveys and evaluates its historic properties. One archeological district, four historic districts, and 36 individual structures are already listed on the National Register, including two National Historic Landmarks. One, the Steamboat William M. Black, once a working dredge boat, now allows visitors to tour, dine in the galley, and even stay overnight in a stateroom.
Dubuque is currently working on nominating two locally designated districts and one additional Landmark to the National Register. In a partnership between the City, State, and private sector, Dubuque has developed the $188 million America's River project, celebrating the educational, environmental, recreational, and historical aspects of its Mississippi River heritage. It includes the National Mississippi River Museum and Aquarium, featuring environmental education and living history presentations, as well as interactive exhibits allowing visitors to become barge pilots and operate locks and dams.
Dubuque was also one of the first five communities in the nation to receive the "Great American Main Street" award. In recent years it has invested record amounts in building rehabilitation and façade improvements through its Main Street program, creating the equivalent of 1,360 full time jobs and 213 new business starts or expansions. The adaptive reuse of historic resources as the Henry Stout Senior Apartments recently won a "Preservation at its Best Award."
Designated a Preserve America Community in August 2004.
For more information
City of Dubuque Historic Preservation
National Mississippi River Museum and Aquarium