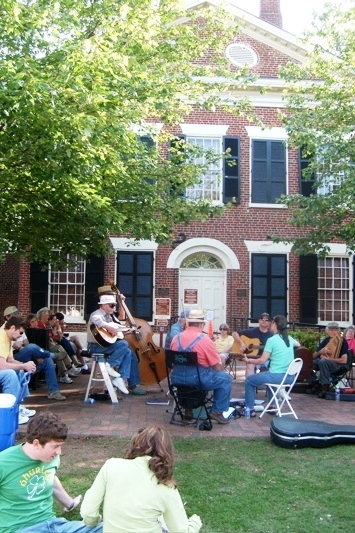 Dahlonega, Georgia, (population 3,638) is located in Lumpkin County, about 60 miles northeast of Atlanta. The town's name comes from the Cherokee word for "yellow," a reference to the area's longtime claim to fame: gold. Native Americans panned for gold in the area in the early 1540s, joined by Spanish miners until they were expelled by the English in the 1730s.
Legend has it that gold was rediscovered in Lumpkin County in 1828, when hunter Benjamin Parks overturned a rock laced with the glittering metal. This led to the first major gold rush in the United States. When the Cherokee were forced out in 1838, the white miners and settlers had the gold and the land to themselves. From 1828 to 1861, Lumpkin County produced more than $36 million in gold coins, $6 million of it minted by the U.S. Mint in Dahlonega. When the Civil War broke out, the Confederacy seized the mint and produced another $23,000 in gold coinage.
While the California Gold Rush in 1849 drew most of the local miners west, leaving the area to the farmers, a second, smaller gold rush in the 1880s briefly revived interest in Lumpkin County. Gradually, though, the gold became more difficult to extract, and today, most Dahlonega "mining" is purely recreational.
The advent of the automobile brought another change to Lumpkin County, as tourism became Dahlonega's third gold rush. Visitors are drawn to the area's mountain scenery, vineyards and wineries, and historical attractions. They can pan for gold, tour the old Consolidated Mine, and visit the Gold Miners' Camp for a taste of what mining was like back in the 1800s. The Old Lumpkin County Courthouse, built in 1836, operates as the Gold Museum, presenting information on the gold deposits of Georgia and the Georgia Gold Rush.
Each year, Dahlonega hosts Gold Rush Days, one of the largest arts and crafts festivals in northeast Georgia. The annual Bear on the Square Mountain Festival celebrates the tradition of bluegrass and old-time mountain music, crafts, and folkways.
Designated a Preserve America Community in August 2008.
For more information 
Dahlonega-Lumpkin County Chamber of Commerce & Visitors Bureau