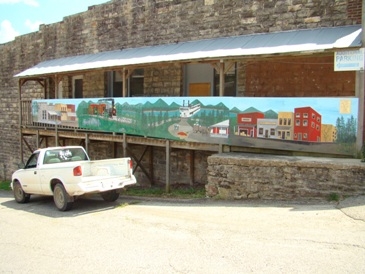 The town of Calico Rock (population 991) was named after the unusual bluffs along the White River, whose rocks were naturally colored like a huge piece of calico cloth. The area was settled in the 1820s and got its first post office in 1851. Although it is one of the oldest communities in Izard County, Calico Rock did not take on the appearance of a town until the late 1880s.
The town overlooks the White River, a major Arkansas waterway, and by the 1870s there was a flourishing boat business in Calico Rock. Ferries crossed the river at the mouth of the Calico Creek, and they continued to operate until the Highway 5 Bridge was constructed in the 1970s. Originally the downtown faced the river, but the town's orientation changed prior to the turn of the century, perhaps as a result of a fire in the 1890s that destroyed many of the existing frame structures.
Construction of a railroad running parallel to the river began in 1902. Many local farmers joined the project, and the town grew to serve the construction crews. With the completion of the railroad, Calico Rock became a major trading center for Izard County and portions of Stone County. New buildings replacing those destroyed by the fire were built of local stone and brick instead of wood. However, in 1923 disaster struck again when a spark from a locomotive set fire to a warehouse, and the ensuing blaze destroyed 28 buildings.
East Calico was once the commercial center of Calico Rock and the surrounding county, but today a six-square-block chunk of it is a ghost town. At least 23 of the original structures, which included a cotton gin, electric power and ice plant, groceries, and other shops, are still standing, but others are empty, overgrown foundations and boarded-up shells.
In 2007, the Calico Rock Organization for Revitalization Efforts (CORE) elected to celebrate the town's past by opening this area as a "ghost town" tourist attraction. Unique in the country for being within the city limits, signs, brochures, and publicity detail the area's history. Each spring, the Peppersauce Ghost Town Historic Tour takes visitors by trolley or hay wagon through the area, with stops along the way to hear presentations on the historic structures given by local volunteers in period costume.
Also in 2007, CORE created a project called the Main Street Makeover. The town's one-and-a-half block downtown commercial district had been listed on the National Register of Historic Places in 1985. Partnering with the 20/20 Group, another local civic organization, the Main Street Makeover has worked to beautify and maintain the historic downtown area with new period-style streetlamps, planters, and historically themed murals, and by turning a vacant lot into a landscaped "pocket park."
Designated a Preserve America Community in July 2010.
For more information
 
Calico Rock City Guide

Calico Rock Organization for Revitalization Efforts

Peppersauce Ghost Town