The ACHP's Office of Native American Affairs and the White House Council on Native American Affairs (WHCNAA) Climate Adaptation Subcommittee will host a virtual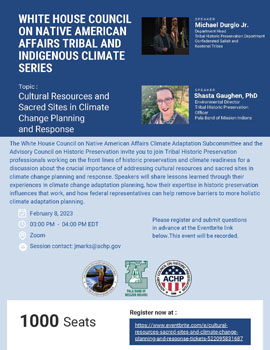 discussion on February 8, 3:00-4:00 p.m. EST on the intersection of cultural resources and sacred sites with climate change planning and response. This session is the second webinar in the WHCNAA's 2023 Tribal and Indigenous Climate Speaker Series and is designed to educate federal agency personnel about consulting and coordinating with Indian Tribes, Native Hawaiians, and other Indigenous Peoples in our combined effort to combat the climate crisis.
The presenters are two leaders working on the front lines of historic preservation and climate readiness—Michael Durglo Jr., Department Head of the Tribal Historic Preservation Department of the Confederated Salish and Kootenai Tribes, and Shasta Gaughen, Ph.D., Environmental Director and Tribal Historic Preservation Officer at the Pala Band of Mission Indians. They will share lessons learned through their experiences in climate change adaptation planning, how their expertise in historic preservation influences that work, and how federal representatives can collaborate to remove barriers to more effective climate planning.
The link to register can be found here. Please contact Jamie Lee Marks at jmarks@achp.gov with any questions.