By Terry Guen, FASLA, Expert Member, Advisory Council on Historic Preservation, Landscape Architect, Terry Guen Design Associates, Chicago, Illinois
As part of the Advisory Council on Historic Preservation's (ACHP) commitment to building a more inclusive national historic preservation program and the commemoration of Asian American History Month, the ACHP celebrates Asian Americans' contributions to U.S. history.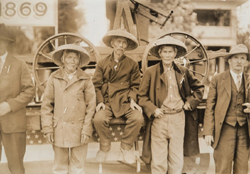 This photo of Ging Cui, Wong Fook, and Lee Shoo was taken at the 50th Transcontinental Anniversary celebration in 1919.  These former employees of the Central Pacific Railroad are seen astride an honorary parade float, representing the 90 percent Chinese immigrant workforce who built the 200-mile stretch of the Transcontinental Railroad through California from 1865-1869.
In the 100 years following this honor, the attribution of Chinese railroad workers was largely lost to the American public. Amidst ensuing years of racial strife, captured by the congressional 1882 Chinese Exclusion Act, valorous stories of danger and toil by more than 12,000 Chinese workers were neither celebrated nor passed to descendants. A renewed uncovering of Asian American-Pacific Islander (AAPI) stories and historic places, however, is being catalyzed by today's 150th Golden Spike Transcontinental Railroad Anniversary in Promontory Summit, Utah.
 "Wherever we put them, we found them good, and they worked themselves into our favor to such an extent that if we found we were in a hurry for a job of work, it was better to put Chinese on at once."-- Charles Crocker, one of the "Big Four Founders" - (Central Pacific Railroad 1865 Annual Report
Even as Railroad Civil Engineer Theodore Judah pledged to the U.S. Congress that he had found a route to breach the Sierra Nevada Mountains at a 2 percent grade, many believed the harsh conditions would make construction nearly impossible. Signed by President Abraham Lincoln on July 1, 1862, the Pacific Railway Act outlined federal support for a private construction effort to be completed by July 1, 1874. In haste, agents of the Central Pacific Railroad turned to the Pearl River Delta Region of China to increase the labor force, which had proven themselves most reliable. Hand blasting and excavating, living in rough terrain, through all seasons and severe weather, sometimes working 24/7 in shifts, the Central Pacific Railroad's race to Promontory Summit, Utah, was completed five years ahead of the congressional deadline.
There was a milestone in 2012 for Chinese American and AAPI engagement in historic preservation when Congress issued a "Statement of Regret" for the 1882 Chinese Exclusion Act and other legislation, which had historically stripped the civil rights of Asian Americans. "Social wrongs that have haunted Chinese descendants for nearly 130 years" were publically recognized (www.1882foundation.org).   
In 2014, the Chinese railroad workers (1865-1869) were inducted into the U.S. Department of Labor's Hall of Honor. The Washington, D.C.-based 1882 Foundation continues, with national organizations including the Chinese American Citizens Alliance, Chinatown Historical Societies, museums, and interest groups, to develop outreach and identification of AAPI historic sites, which grow interest in Asian American-Pacific Islander historic preservation.
A recent collaboration with the U.S. Forest Service, Department of the Interior, and Bureau of Land Management initiated a bus tour to railroad worker sites across the Sierra range of the Tahoe National Forest. Since 2017, Stanford University's Program in American Studies has been creating scholarships and exhibits, uncovering the history of America's Chinese immigrant workforce in its "Chinese Railroad Workers in North America Project." In May 2018, the National Park Service released its complex and long-awaited AAPI Heritage Theme Study. In March 2019, the Golden Spike National Historical Site was re-designated, becoming the first National Park with significant attribution to Asian American history.
Local AAPI history advocates are promoting legislation in more than 30 states to secure city and state resolutions that recognize the 150th Anniversary Transcontinental Railroad Completion and contributions of the Chinese railroad workers. The Golden Spike celebration appears to be a catalyst for recognition of AAPIs and Chinese Americans' to our nation's history and the preservation of historic places that tell their story.