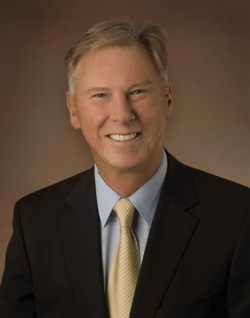 Milford Wayne Donaldson FAIA, of Fair Oaks, California, has spent the last nine years as chairman of the Advisory Council on Historic Preservation (ACHP), an independent federal agency that promotes the preservation, enhancement, and sustainable use of the nation's diverse resources. On July 22, Donaldson stepped down, after the Senate confirmation and swearing in of Aimee Jorjani, who became the ACHP's first full-time chairman under the current Administration.
When Donaldson was appointed chairman in 2010 by President Barack Obama, he had several preservation pillars that he hoped to accomplish during his tenure. One of those was the idea of a full-time ACHP chairman, which came to fruition through legislation in 2016.
"It is important to have a full-time chairman to interface consistently with the White House, our preservation partners, our legislators, and ACHP staff," Donaldson said. "Visionary leaders can bring out the best in their people and cultivate them to take pride in what they are doing when they are face-to-face. This relationship establishes trust."
Donaldson's involvement in historic preservation evolved over the course of his lifetime. His mother was a Navy nurse and his father was a Navy field corpsman (combat medic) in World War II and the Korean Conflict. He grew up in the diverse community of Camp Pendleton and the beach community of Oceanside, California.
Donaldson knew he wanted to be an architect since age seven and studied architecture at California Polytechnic State University in San Luis Obispo. He participated in a study abroad program that took him to the University of Sweden, founded in 1477, where he realized many buildings were preserved throughout the centuries. He began working for the Uppsala City Planner and learned about history, focusing on preservation of the culture, language, and customs through its built environment. While in Sweden, he and his then-wife Nancy spent their free time traveling throughout Europe and Russia, at the height of the 1960s Cold War.
"The foundation of growing up in Oceanside and traveling extensively for eight years in Europe, Mexico, and South America led me to an interest in preserving culture and a career in preservation without knowing it," Donaldson said. "My first classroom building at the University of Uppsala, Sweden was built in 1792."
From Sweden, the Donaldsons went to Glasgow, Scotland, where Wayne earned a Master of Science in Architecture, studying for three months under Frei Otto, architect and structural engineer, in Stuttgart, Germany, in preparation for the 1972 Olympic Summer Games in Munich. Returning to the United States, Donaldson began his professional career at a distinguished San Diego, CA architectural firm, Architects Mosher, Drew, Watson. While there, he fell in love with what was to become the city's Gaslamp Quarter, which reminded him of the European towns he had toured.
He found that the residents and business owners of the potential historic Gaslamp Quarter came to him for help in saving their buildings, many dating back to the mid-1800s, from demolition. Donaldson opened his own architecture firm in 1978 in the historic district, with a focus on saving the 120 contributing structures from being leveled to make way for new construction.
"I got involved with a diverse group of owners, residents, community leaders, and just plain folks from a variety of ethnic backgrounds–African Americans, Chinese, Filipinos, Japanese, Samoans—who had been there forever and wanted to save the area," Donaldson said. "They sought help in preserving their heritage through the revitalization of the area to attract legitimate businesses, restaurants, and live/work condos. Luckily, I became their go-to person."
As the Gaslamp Quarter started to develop and with the passage of the federal Historic Tax Credit in 1981, Donaldson's business grew and thrived. His firm is still going strong today, 40 years later.
From there, Donaldson became immersed in the preservation community; he is a past president of California Preservation Foundation, the State Historical Building Safety Board, the State Historic Capitol Commission, the California Missions Foundation, a former commissioner on the State Historical Resources Commission, and a Preservation Action advisor.
In 2004, Donaldson was appointed by then- California Governor Arnold Schwarzenegger as the State Historic Preservation Officer.
"I got involved in the politics of preservation to protect the cultural heritage, especially in the west, because it is fragile," Donaldson said. "It is important to experience these places before they are gone. We must convince leaders to do what is right and be visionaries. It takes commitment from leaders and their staff to work toward the preservation of our heritage every day."
Donaldson's goal was to build a more inclusive preservation program in California, and he made the State Historical Resources Commission membership more diverse. He played a major role in having Los Angeles' Historic Filipinotown designated as a historic district, which focused not on architecture but those cultural attributes. He also focused on outreach to youth, promoting their involvement in discovering places that matter to them, and supported service learning programs.
His work in California laid the groundwork that led to his appointment as ACHP chairman. He had four preservation promises he wanted to keep: build more diversity into the ACHP membership and continue and grow support for heritage for underserved communities; build a more inclusive preservation program nationwide; cultivate an awareness for youth in preservation; and encourage a better relationship with Native Americans and the State Historic Preservation Officers.
Among his achievements at the ACHP, Donaldson spearheaded the ACHP's social media outreach on Facebook, Twitter, and Instagram, promoting Preserve Indigenous-Native Youth and Preservation: The Next Generation. His direction also led to numerous published articles including commentary on involving youth in historic preservation and a variety of webinars on topics of interest for growing a preservation ethic and involving all people in preservation.
Donaldson said he is proud of the changes he supported within staff and membership to increase diversity. He said the ACHP members have grown and become leaders in their own rights in their preservation communities. Through his legislative efforts, the representative of the National Association of Tribal Historic Preservation Officers is a voting council member, not just an observer. He enjoyed working with the tribal communities and others hearing preservation concerns in such contentious Section 106 cases as a windfarm off of Nantucket Sound, oil and gas leases in a national forest in Montana, and modifications to a historic dam in Lowell, Massachusetts.
Donaldson, who earned the rank of Eagle Scout and started a Boy Scout Troop in San Diego for scouts with disabilities, is a Fellow of the American Institute of Architects (FAIA) with Leadership in Energy and Environmental Design (LEED) in Design + Building Construction. He worked hard to lead the effort toward sustainability in federal government historic resources by directing the task force for the pivotal document, Managing Change: Preservation and Rightsizing in America. Donaldson also is proud of the ACHP's guidance to Congress and the U.S. Postal Service regarding preserving historic post offices through the report Preserving Historic Post Offices: A Report to Congress. He also cites work with the Council on Environmental Quality on a joint handbook: NEPA and NHPA: A Handbook for Integrating NEPA and Section 106 as important guidance for federal agencies looking to streamline their projects while considering historic preservation concerns.
Donaldson said one of his greatest memories as chairman was officiating at a presentation in Los Angeles' Filipinotown when it received Preserve America Community designation in 2012. The ACHP manages the Preserve America program which recognizes communities that celebrate and protect their heritage. During his tenure, an additional 170 Preserve America Communities were added.
"I was emotionally reduced to tears as I witnessed young Filipino children touch the signature of (First Lady) Michelle Obama on the Preserve America Community certificate; it was heartfelt," Donaldson said. "It was a moment that solidified the importance of community and the preservation of their heritage. I think of that event every day."
Serving as ACHP chairman has meant so much to Donaldson, both professionally and personally, and is one of his greatest achievements. Donaldson said his time at the ACHP was a labor of love; preserving this nation's heritage and culture is what makes him thrive. He especially valued his time with the ACHP staff.
"The ACHP staff members, current and former, are some of the most committed public servants in the federal government," he said. "Their dedication and devotion to the preservation of our nation's heritage and their willingness to advocate for doing the right thing and involving all parties in preservation is commendable. I have enjoyed working with the staff immensely, and they have helped make my time as chairman a rewarding experience." 
Donaldson shows no signs of slowing down as he exits the chairman post.
"I'm going spend more time with my wife, Laurie, and my extended family, especially my grandchildren, do some writing, more architectural work, fly my Stinson (airplane), surf, and just be cool," he said. "But, really, I want to get out in the community and talk to people on how they can protect their cultural heritage and share their stories with all Americans."