Mirta Vidal, Senior Conservation Technician, EverGreene Architectural Arts, Washington, D.C.
Mirta Vidal is a Senior Conservation Technician with 13 years of experience working in museums, exhibitions, and conservation of fine arts collections.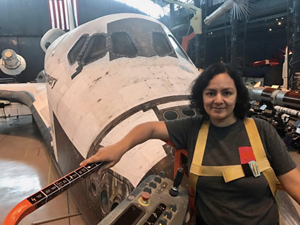 She has a BS degree in Art History from San Marcos University (Lima, Peru) and a specialization in Easel Paintings Conservation from the National School of Fine Arts of Lima. Prior to joining EverGreene Architectural Arts, she worked in The Municipal Art Gallery of Lima in the conservation area performing preventive maintenance work, which included condition assessment, cleaning, handling, storage, cataloging, and assistance to senior specialists in artwork restoration. Her work included documentation of collections, preventive conservation, and exhibition techniques.
Ms. Vidal joined EverGreene in January 2016. She works closely with senior conservators and supports many aspects of conservation treatment. She is the lead Senior Conservation Technician on the multi-year project for the Smithsonian Air and Space Museum aircraft and display cleaning program at the Udvar-Hazy Center.

What led you to your field?
I was always interested in all forms of artistic manifestation, so I studied Art History at San Marcos University in Peru. I spent my college years in awe of the historic Centre of Lima with its colonial balconies, narrow streets, museums, churches, and other monuments. While being surrounded by such greatness, I had the desire to be hands-on in the field, so when I finished my studies, I decided to pursue the conservation of easel paintings in the National School of Fine Arts in Lima.

When I came to the States, I started to work for Conservation Solutions, Inc, a conservation company that later became part of EverGreene Architectural Arts, allowing me the opportunity to work on different projects involving direct contact with art pieces, sculptures, and historical buildings.
How does what you do relate to historic preservation?
EverGreene is a company specialized in conservation of architectural elements, sculptures, murals, and work of art, among others. So, most of our projects are developed on historic buildings and sites, where we perform treatments following conservation's best practices to maintain the original features and extend the existence of a building, object, or work of art in which we are working. I feel so proud to have been part of important projects on iconic buildings, museums, and significant monuments throughout the DC area.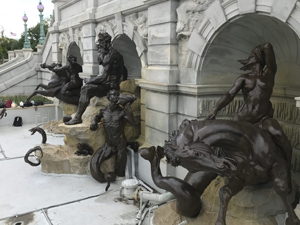 Why do you think historic preservation matters?
It is very important to know our past to lead our future. Maintaining and respecting our buildings and monuments helps us construct our identity and the future ones. It's what gives us a sense of social togetherness.

What courses do you recommend for students interested in this field?
I think it's important to explore options and specific interests, since it is a wide discipline. Courses of art history, architectural history, materials technology, and conservation are very helpful as well as many of the typical construction trades like painting, carpentry, and masonry. Working hands-on in the field allows us to have a close look. Frequent participation in seminars and conferences is a good way to get involved, too.

Do you have a favorite preservation project? What about it made it special?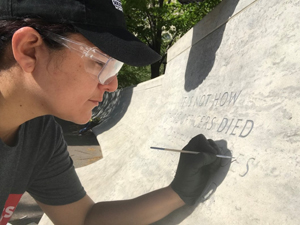 I have many favorites—one of the most memorable was the first phase of the consolidation of marble decorative elements on the U.S. Capitol. I loved being close to the columns, pilasters, and the pediment of the building. It was an unforgettable experience. Another one is the maintenance treatment of the Neptune Fountain at the Library of Congress, where there were many people who stopped to thank us and congratulate us for our work. I also enjoyed performing inpainting on the National Law Enforcement Memorial. In short, there were way too many favorites; each project has its enchantment.
Can you tell us what you are working on right now?
Unfortunately, the current project I'm working on has a Non-Disclosure Agreement; however, I can say that it is a space-themed mural in an iconic American institution here in DC. And soon, I will be resuming another project at the Udvar-Hazy Center, performing regular cleaning of the 144 historic aircrafts and spacecrafts.
Do you have advice for novice preservationists?
Be eager to learn and explore about the area of preservation that interests you and how it relates to other disciplines. Historic preservation is a big field; it contains many options to specialize according to your experience, studies, or background. Talk with a lot of people, learn about their projects, and listen to them. It is amazing how much knowledge the specialists have in this area; don't be afraid to ask.
 
The ACHP's mission is "preserving America's heritage;" can you give us an example of how your community is preserving its heritage?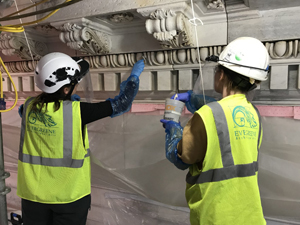 I think the DC area is very focused on preserving its heritage, even with new construction, and the inevitable change and growing of the city. From my experience, I can tell that our clients are strict about the treatments of their historic and federal buildings.
What do you find are the most important intersections between public art and historic preservation?
The way that they co-exist in the community. Public art—dynamic and ephemeral—interacts with modern constructions and historic buildings that are preserved for future generations, but at the same time these buildings are adapting and changing their roles and functions. I believe that they enrich each other. However, a sustainable balance—although it is complicated—is necessary, showing the importance of studies, perspective, diffusion, and other resources that can help us to understand how these buildings fit into our history.
Read more Q&A stories about the Preservationists in Your Neighborhood!