Steve T. Phan, Historian and Park Ranger
Steve T. Phan is a Park Ranger and historian at the Civil War Defenses of Washing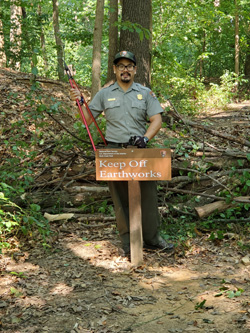 ton (CWDW). Prior to his arrival at CWDW, he worked as an intern and park guide at Gettysburg National Military Park, Richmond National Battlefield Park, Hopewell Culture National Historical Park, Stones River National Battlefield, and Rock Creek Park. A military history scholar of the Civil War era, Phan's research focuses on military occupation, operational command, fortifications, and the Western Theater during the Civil War.  He is the author of articles about Asians and Pacific Islanders in the Civil War and the Defenses of Washington, and blog posts for the Emerging Civil War. He has a Master's degree in American History from Middle Tennessee State University.
What led you to your field?
A lifelong interest in American History and Military History led me to this career field. My career with the National Park Service began as an intern at Gettysburg National Military Park in 2012. From there, it has been a long and winding journey to several national park units, graduate school, and many stops in-between.
How does what you do relate to historic preservation?
The CWDW manages 17 Civil War sites in the National Capital Region. The remnants of these sites include earthworks constructed by federal soldiers and civilian laborers. The fragile earthworks have deteriorated over the past century and a half. It is our mission to preserve them. By educating the public about their significance, we create stewards who help spread the word about protecting them, as well.
Why do you think historic preservation matters?
Historic preservation matters because it can connect the public to the vestiges of the past. For history professionals, historic preservation provides tangible links to the past, whether that be a historic site or ground where a historic event occurred. In the CWDW, we can still see why federal engineers selected ground where the forts and earthworks were built. The urban sprawl may have destroyed the walls, but we can understand the historic landscape by simply looking at the ground. Historic preservation can provide these opportunities.
What courses do you recommend for students interested in this field?
Public history courses generally cover a facet of historic preservation. I think that is a good start. Students can also visit historic sites and battlefields and speak to staff about historic preservation related to the specific site. That is a good hands-on opportunity to understand the field.

Do you have a favorite preservation project?  What about it made it special?
I would say creating interpretive wayside and protection signs at the CWDW the past year. I wrote and edited the text for the interpretive wayside panels at Fort Reno, found images, assisted with the design, and even helped install the signs at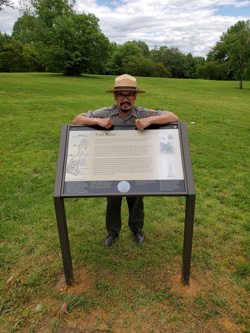 the site. I also created "Keep Off Earthwork" signs at two sites in the CWDW. That was a special project because there was no signage that prohibited visitors from walking and damaging the earthworks.

Can you tell us what you are working on right now?
I am working on expanding signage at our sites to protect the earthworks. I am also creating more interpretive programs to educate the public about protecting these historic sites.

How do you think the national historic preservation programs help your community?
Good question. I hope the national historic preservation programs can help connect communities to sites. With community buy-in, sites can be better preserved and maintained.
Do you have advice for novice preservationists?
Be patient and do not be daunted when there appears to be no traction on an idea or project. I advise finding a different avenue of approach to advance the project. Be open to learning from subject matter experts.
The ACHP's mission is "preserving America's heritage;" can you give us an example of how your community is preserving its heritage?
For the CWDW, preserving American's heritage can be seen in the spaces that we manage, i.e. the actual earthworks, and the human interest stories we interpret to visitors.
What about military history makes it unique in the preservation world?
Each country seems to do it differently. The US is unique with preservation in regard to military history. Visitors from Europe are shocked to see the amount of battlefields and places connected to war that are preserved in the US. Much of that, I believe, comes from the youth of our country—Europe has been fighting wars for centuries—and how citizens are still coming to grips with the meaning of our freedom and independence.
Read more Q&A stories about the preservationists in your neighborhood!