Paul LaRue, history educator, Washington Court House, Ohio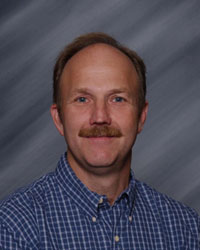 Paul LaRue retired in 2014 after 30 years teaching social studies at Washington High School in Washington Court House, Ohio. He has been honored with numerous teaching awards for his innovative projects that fully immerse students in learning about their own history and that of their community and getting actively involved in historic preservation.
What led you to your field?
I grew up on a family farm in rural southern Ohio. In my family, you either farmed, taught school, or both. I graduated from The Ohio State University and took a teaching position in the Washington City Schools (Washington Court House, Ohio). The first dozen years in the classroom I spent honing my skills as a classroom teacher. In 1998, I began teaching a class called research history; which gave my students the opportunity to step out of the classroom and into the community to work in historic preservation.
How does what you do relate to historic preservation?
Sadly, most classrooms don't incorporate historic preservation. For many years my classroom was no different. I began to utilize historic preservation as a part of my curriculum in 1998. In 2011, in a partnership with HISTORY (the History Channel), I wrote "Preservation on a Shoestring." I designed this short "how-to" for teachers as an introduction to preservation in the classroom. Teachers today have less time than ever before. Between mandated testing and more structured curriculum content, teachers have been forced to cut out many activities. "Preservation on a Shoestring" was to help teachers with inexpensive, limited time projects. Preservation is a valuable classroom tool -- if you know how to utilize the concept.
Why do you think historic preservation matters?
Teaching students about the preservation of places is a great tool for making history real. Students gain a unique and personal perspective on history through preservation activities. My students have researched, ordered, and installed government headstones for African American Civil War Veterans with unmarked graves. More than 12 years later; my old students can tell you with pride the veteran's headstone they set (and the veteran's story). I'm pretty sure they can't tell you a lot of what I taught them in the classroom. You be the judge of why historic preservation matters!
Do you have a favorite preservation project?  What about it made it special?
Two projects come to mind: First is our participation in the Library of Congress' Veterans History Project. My students and I began participating in 2003. Between 2003 and 2013, we interviewed nearly 75 veterans. We began by interviewing one of my student's grandfathers (an African American World War II veteran). Our project was spread by word of mouth in our community. The two local American Legion Posts helped my class get veterans willing to be interviewed. I received a phone call from a nearby community requesting my students travel to their community and interview a group of African American World War II veterans. These veterans told my students "no one had shown any interest in preserving their stories." Over the course of our project approximately half of the veterans we interviewed were African American. In 2007, HISTORY and Time Warner Cable hosted their "Take a Veteran to School" event at our high school with my students and our local veterans. The event was a huge success. The reality of this project (like most historic preservation) is this required a lot of work! One of my students kept track of the amount of time to interview, record, create a transcript of the interview, and edit his grandfather's interview (a WWII veteran). My student calculated it required approximately 75 hours.
I quickly learned, this preservation project connected my students and me to the veterans in ways I had not anticipated. I have been asked to give eulogies and serve as a pall bearer for several of the veterans' families (an amazing honor). We have also interviewed several veterans from the Korean and Vietnam Wars. Since we began the project, more than half of the veterans we interviewed have passed away. I have had the pleasure to work with the Library of Congress and other concerned groups on ways to get other teachers involved with this worthwhile preservation project.
Second: starting in 2002 my students have researched, ordered, and installed more than 70 headstones for veterans buried in unmarked graves in five cemeteries in southern Ohio. This unique preservation project began in our local city cemetery, after I had walked my class to the cemetery (a poor man's field trip) and a student asked, "Don't these men deserve better?"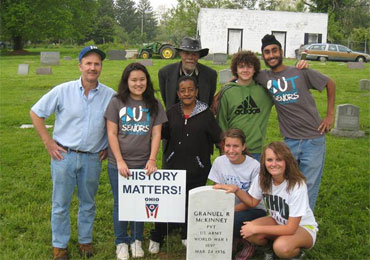 My students and I developed a core belief: "All veterans, regardless of race, gender, or country of origin deserve a marked grave." More than half of the unmarked graves we have marked were for African American Civil War Veterans. My students learned to partner with cemetery officials, local government representatives, and the Veterans Administration (VA) policy for getting government headstones. In 2012, the VA changed its policy on groups getting headstones for veterans with unmarked graves. Since 2012, my students and I have worked with concerned groups and the VA to develop a policy that allows groups to mark graves, and respects the rights of the veteran's family. Preservation has allowed my students to conduct historical research, work in service learning, and become advocates for policy reform.
Can you tell us what you are working on right now?
I retired June 1, 2014, after being in the classroom for 30 years. I'm now working with groups of teachers and educators on how to incorporate preservation (amongst other things) into their classroom. This July (2014) I was in Washington, D.C. working with the African American Civil War Memorial and Museum and helping facilitate their teachers' institute. Teachers from Indiana, Maryland, and the District of Columbia participated in this institute. I'm also currently reviewing some educational materials for the National Park Service. I hope to continue working with teachers and preservationists and encourage strategic partnerships.
How do you think the national historic preservation programs help your community?
National historic preservation programs provide communities with information and resources. I think these preservation programs have encouraged preservationists to "raise the bar" when it comes to historic preservation. With the support and encouragement of the ACHP; my class' historic preservation became more and more creative. My students used ground penetrating radar to identify the location of a Civil War soldier transported home in a cast iron coffin (in 1862); then buried in our local cemetery. This was a once in a lifetime opportunity for my students to use state of the art technology in historic preservation.
Do you have advice for novice preservationists?
My own experience was to start small. My students' first preservation project in 1998 was to document the houses, structures, and people from our community involved in the Underground Railroad. My students took photographs of structures and did research on the structures and the people, and compiled a book. We then had a program open to the community and distributed books to anyone interested (at no cost). This was a rather simple project, yet it was successful and got us off on a positive start in historic preservation. I am amazed to this day how popular our first project has continued to be with our community. If we had tried something complicated for our first historic preservation project, it might not have ended well, and turned us off of historic preservation.
The ACHP's mission is "preserving America's heritage;" can you give us an example of how your community is preserving its heritage?
My community, Washington Court House, is a county seat community of 13,000, in rural southern Ohio. Many of my students over the years would say in class, "nothing and no one of interest came from here." The reality is every community has a unique heritage that needs preserved. In 2012, my students and I learned that the great African American inventor Granville Woods lived and worked in our community for two years from 1878-1880. My students researched his life and times in our community. My class then sought funding for an Ohio Historic Marker, wrote the marker text, and coordinated this with our local government officials and the Ohio Historical Connection. The community now has an Ohio Historic marker to celebrate Granville Woods' time in our community. The ACHP's mission of "preserving America's heritage" is exemplified by my students' project.
How does teaching and history help play a role in the preservation field?
I come from the education (public schools) field. History and teaching both are needed for an appreciation of historic preservation. Most of my students will never work in historic preservation, but they have gained an appreciation of their heritage that they will carry with them for the rest of their lives. Whether interviewing a World War II veteran, marking an unmarked veteran's grave, or getting a historic marker for Granville Woods' life in our community, my students have an appreciation of history they would not have gained without working in historic preservation.
Read more Q&A stories about the preservationists in your neighborhood!