Lauren Northup, Director of Museums, Historic Charleston Foundation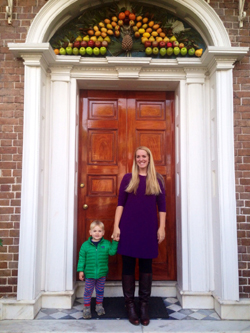 Lauren Northup is Director of Museums for Historic Charleston Foundation (HCF). She has a B.A. in English and Art History from the University of North Carolina-Chapel Hill and an M.Litt. in Art History from the University of St. Andrews, Scotland. Northup served as Manager of the Nathaniel Russell House Museum from 2012-2014, Collections Manager from 2014-2016, and accepted her current position of Director of Museums in 2016. Prior to her work at HCF, she served as Curator of Collections at the Hermitage Museum in Virginia, the Fife Folk Museum in Ceres, Scotland, and the Biltmore Estate in Asheville, North Carolina. She worked in the valuations department at Bonhams Auctioneers in Edinburgh, Scotland, while doing her graduate work in the decorative arts at the University of St Andrews. She is a proud alumna of the Attingham Trust Summer School (2010), the Attingham Trust Study Programme (New York and the Hudson River Valley, 2012), and Monticello's Historic Landscape Institute (2014). She lives in historic Summerville, South Carolina, with her husband and two children.
What led you to your field?
My parents have always cared deeply about art, international travel, and historic places. I grew up within walking distance of the Biltmore Estate in Asheville, North Carolina. We used to sneak onto the estate when we were kids (I do not recommend this), and I remember standing alone in Vanderbilt's library, staring up at the ceiling (The Chariots of Aurora by Giovanni Antonio Pellegrini), and feeling awe-struck. Biltmore molded my innate understanding of the power of place, which led ultimately to Charleston. My family arrived in Charleston in the 17th century, so returning here to work felt like coming home.
How does what you do relate to historic preservation?
I am an art historian and museum professional by training, but we are all working toward the common good: understanding the past, preserving what matters for the public trust, and ensuring its future. I am extraordinarily lucky to work for Historic Charleston Foundation-since forming the first Revolving Fund in 1958, HCF has led the field in preservation strategy and advocacy. It is a privilege to show up every day and work to continue that legacy. I serve as Director of Museums, which means I oversee our two historic house museums: the Nathaniel Russell House (circa 1808) and the Aiken-Rhett House (circa 1820). Acquiring and interpreting our vast collection of fine and decorative art is one of the many ways that HCF actively preserves Charleston's rich cultural heritage.
Why do you think historic preservation matters?
Historic preservation is what makes us… us. Without the past, how do we know who we are and where we are going? Our identity and quality of life rely on our collective memory.
What courses do you recommend for students interested in this field?
I am extremely biased, but I think a solid foundation in art history has immense benefits for every discipline. Art history is human history, and a decent understanding of the principles of design informs ALL THINGS. To study the history of art is to chase a limitless horizon of discovery and enlightenment.
Do you have a favorite preservation project?  What about it made it special?
My favorite preservation project is still ongoing. Thanks to a matching grant from the South Carolina State Historic Preservation Officer, HCF was able to partner with the landscape architectural firm Suzanne Turner & Associates to carry out a comprehensive Cultural Landscapes Report at the Aiken Rhett House (circa 1820). A Cultural Landscapes Report (CLR) is an intensive study that aims to compile a documentary history of the evolution of the Aiken-Rhett House landscape over the past 200 years. Once the history has been assembled and recorded, the CLR will make recommendations for how best to manage the landscape so it may be preserved and interpreted fully for future generations. Whereas many dependency buildings in Charleston have been demolished or adapted, the Aiken-Rhett slave quarters-with their original finishes, floors, and fixtures-survive virtually intact, allowing visitors the unique chance to fully comprehend the every-day realities of enslaved Africans. Given the local tensions and national dialogue regarding race relations and systemic inequality, we take our stewardship of intact slave quarters very seriously, and hope to provide a place for the community to engage with the unvarnished realities of our shared history. I see the Cultural Landscape Report as a huge step toward understanding the values and associations that make the landscape and work yard historically significant, as well as provide a more complete chronicle of the story of the landscape's development so it can be more successfully communicated to our visitors. I have enjoyed the archival research portion of this project immensely; reading through more than 100 boxes of Aiken family papers, letters, and receipts is like reading the most confusing, intricate, and intriguing novel of your life! Preserving and interpreting cultural landscapes-as opposed to structures-is also something I am passionate about. Learning about cultural landscape preservation from Susan Turner (who is an absolute legend in the field) has been an honor and a privilege.
Can you tell us what you are working on right now?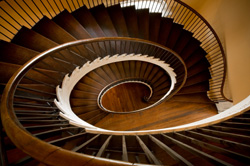 Another major project I and my colleagues have been working on for several years is the Soft Furnishings Project at the Nathaniel Russell House. This project builds on the research and preservation efforts underway since the 1990s, and aims to install period-appropriate soft furnishings (i.e. carpets, bed hangings, wallpapers, slipcovers, etc.) throughout the house museum. This project requires a large team of consultants, conservators, and textile experts from across the Southeast, including Susan Buck (conservator and paint analyst), Natalie Larson (textile historian), and Kathleen Staples (conservator). My current focus is the second floor best bedchamber, which is essentially the final frontier of intrinsic investigation and discovery. At the moment I am simultaneously working with carpet manufacturers to design and weave a period-accurate Brussels carpet, selecting fabrics and trim for Natalie Larson's meticulously researched bed and window hanging scheme, and testing finish quality for various recipes of 19th century distemper paint (among other things!).
How important do you think tools like social media are to the future of historic preservation?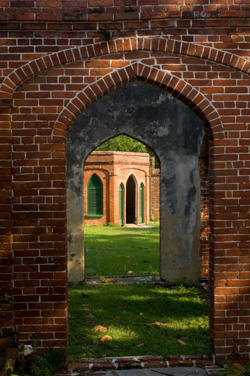 I think social media and digital engagement are, by far, THE most important tools to ensure the lasting vitality of our cultural institutions. I started an Instagram account for HCF in 2013 as a way to document the work going on behind the scenes at the museum houses, and it has steadily grown to more than 27,000 followers. Our Preservation and Museums departments are combined, so I spent our weekly staff meetings despairing (or, occasionally, celebrating) the myriad issues facing our Preservation staff, and it quickly became apparent I should be using the Instagram platform to inform our followers about advocacy issues as well. I use the HCF Instagram as a teaching tool for preservation and history nerds, but I also think of it as a love letter to Charleston. I find that writing soulfully and telling the stories that interest me is the best way to connect to our followers. By celebrating the beauty of Charleston, I am also paying homage to the generations of preservationists who fought hard to make this city what it is today.
How do you think the national historic preservation programs help your community?
Tax credit projects like the Cigar Factory and 1 South Broad are revitalizing enormous buildings that have been vacant and underused for decades. Even though the Charleston real estate market is booming, these large-scale projects could not happen without the tax credit program.
Do you have advice for novice preservationists?
Show up, work hard, and make yourself indispensable. Always write a thank you note.
The ACHP's mission is "preserving America's heritage;" can you give us an example of how your community is preserving its heritage?
I am continually inspired by Charleston's shared ethic of civic engagement. When we ask our supporters to support an issue (i.e. cruise ship tourism), they show up in the hundreds. For the contentious issues you will see people sitting in hallways, crammed into overflow rooms, and even waiting outside. I love how fiercely Charlestonians advocate for their city, and how committed they are to protecting their history and way of life. Charleston's history is America's history! So many pivotal moments happened on our doorsteps-good and bad -and we take that very seriously.
Read more Q&A stories about the preservationists in your neighborhood!