Emily Hotaling Eig, Founder and CEO of EHT Traceries, Inc. Architectural Historian and Historic Preservation Specialist, Washington, D.C.
Emily Hotaling Eig was born in Yonkers, New York, and grew up in Maywood, Ne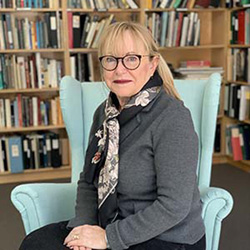 w Jersey. She has a BA in Fine Arts (History) from Brandeis University and an MAT in Museum Education (Architecture) from George Washington University. She is married and has three children, and she founded Traceries in 1977. She reorganized the firm as EHT Traceries, Inc. in 1998.
What led you to your field?
A great interest in cities. I grew up outside Manhattan and spent many days of wonder visiting the city (e.g. ice skating at Rockefeller Center, romcoms at Rockefeller Music Hall, mummies and Rousseau at the Met, school clothes at Macy's, awe at the Statue of Liberty and Empire State Building) with my grandparents. My father worked for Manufacturers Trust Bank, and a visit to him at work was always part of the day. When I was barely four, the bank moved across the street from a 1916 York and Sawyer dark wood paneled, narrow banking hall at 511 Fifth Avenue to the Skidmore Owings and Merrill International Style glass box at Fifth Avenue and 43rd Street (now 510 Fifth Avenue). (https://en.wikiarquitectura.com/building/manufacturers-trust-company-building/)
Images of these buildings never left me. Enthralled with the city, good at math, and having not considered the profession of architecture until later in my education, I saw Economics as the road to understanding urban life. I added Political Science to that and thought I was on my way. Then one day I was recruited by the Fine Arts Department to consider switching majors. After some very persuasive discussions, I made the change…on the condition that Architecture not Art would be the focus. Given the opportunity to study architecture under a "Flexible Curriculum" program that brought in adjunct professors, blended with what I had already learned, helped keep me on track. Indeed, this experience with design professionals only increased my desire to make cities my career. I spent my senior year in Washington, D.C. (a perk that I was able to use as a "newly married girl on the Dean's List"), while my husband began Georgetown Law School. Heeding my advisor's recommendation to never assume that one understands a building unless one can actually experience it, I decided to begin a Senior Honors paper related to the nation's capital. I focused on the topic of urban open public space, comparing the fate of Lafayette Square to that of Judiciary Square. Getting somewhat carried away, the end result was 200 pages, each of which required a firm understanding of D.C'.s history.
Graduating and ready to start architecture school, once again my favorite professor persuaded me to take a different road. Two professors from George Washington University had visited Brandeis seeking to recruit graduates to enter a new master's program in a new field: Museum Education. The idea was to train focused professionals to educate the masses as to the wonders of their primary interest (preferably those that were actually related to established museums). The Museum Education program seemed a very exciting way to study cities more broadly than I might have as an architect. The idea of cities as objects in a museum was a bit far-fetched, but the idea that I might pursue some sort of work with a museum had been planted during my research for that honors paper, when I learned that the Smithsonian was planning on opening a Museum of Architecture at the Pension Building. Getting a degree in Museum Education and getting a job at a DC museum dedicated to the built environment became my goal.
So what happened? A four-month full-time internship at the National Trust for Historic Preservation (NTHP).
The NTHP provided me with an exciting adventure, and the Museum of Architecture would not materialize until about 10 years later as the National Building Museum. Organized preservation had been around since the effort to save Mount Vernon, but it experienced huge growth as more and more beautiful old buildings were being threatened (and many demolished) by urban renewal. I was in the right place at the right time to watch the NTHP expand its audience and refine its mission. My master's thesis was not a paper but an exhibition on Waddy Butler Wood, architect of the Woodrow Wilson House, which presented some of the residences he had designed in DC. When the internship was over, I was offered a position there. But when I became pregnant with my first child, the long hours could not jive with motherhood. This is when the idea of tracing the history of houses was born.
How does what you do relate to historic preservation?
Traceries is all about historic preservation. The firm started quite modestly, with the goal of researching buildings for owners. Having studied DC history extensively for my Honors paper I was excited to tackle this new history "assignment." My background in architectural history prepared me to uncover and analyze the history of buildings. I don't think that an active role in preservation per se was on my mind at that time, but I knew that knowing more information about a building made it seem more precious. It is important to put this into context: there were only a few undergraduate programs in preservation around the country; no programs offering master's degrees in preservation; and only a handful of historians worked at the National Park Service charged with actually creating the newly legislated federal historic preservation program. However, preservation was becoming more popular in the U.S. When D.C. passed the Historic Protection Act, the task of writing landmark applications that would protect buildings from demolition was added to our scope. This led to a variety of preservation-related contract work for the NTHP, the Historic American Building Survey, the American Institute of Architects, the DC Preservation League (then Don't Tear It Down), and a stint as a resource educator for an Architect in School Program at John Eaton School in D.C. I learned on the job, watching, listening, and working with other professionals with an interest in preservation. Soon I had employees who had master's degrees in preservation, and I learned from them, too.
Today Traceries is involved with almost every aspect of historic preservation. We work for owners; architects; communities; as well as local, state, and federal government. We research, analyze, evaluate buildings and districts, prepare landmark and district nominations to local inventories and the National Register. We guide architects to preservation-worthy practices. We prepare historic contexts, Historic Structure Reports, Building Preservation Plans, Cultural Landscape Reports, assist archaeologists, prepare educational materials, and provide guidance addressing environmental and sustainability-related issues to existing resources. I have often said that I grew up with the preservation movement. It is what I do every day.
Why do you think historic preservation matters?
How can we know who we are if there is nothing to give us context? How can we have a future if we deny our past? How can we plan our future if we do not know what has gone before us? How can we build a future if we have thrown away everything that we once had? Past is prologue.
What courses do you recommend for students interested in this field?
A Masters in historic preservation is a basic requirement today, but I advise that an undergraduate or second graduate degree in related subjects such as architecture, history, architectural history, urban studies, planning, sustainability, conservation, or even the law increases one's success in the field. A Ph.D. in preservation (a relatively new degree) may become a good choice depending on one's personal goals for the future. On occasion, someone who has been trained in subjects such as urban studies, American history, or architecture but who has a strong interest in preservation could qualify for a job in the field, but it would require strong evidence of interest and a willingness to learn on the job.

Do you have a favorite preservation project?  What about it made it special?
I have many! Warner Theatre from the 1980s, the City Post Office in the 1990s, Loews Kings Theatre (Brooklyn) in the 2000s are just three of what is close to a lifetime of work. But the most recent is the Carnegie Library's adaptive reuse as an Apple Global Flagship and the DC History Center. The building had not been used as a library since 1972. Efforts to have it become part of the University of the District of Columbia and then transformed into the Museum of the City of Washington failed miserably. Since the early 2000's, the building's use was limited to private events. D.C. had done what it could financially and sought a new user which could rehabilitate the building and put it back into public use. Another failed effort sought to put the International Spy Museum into the space, but this required a major above and below ground addition that was not welcomed by the community. When Apple targeted the building for a Global Flagship, the initial reaction was confusion: did this mean a glass box on the lawn?  Why would DC want to have a retail use in this important historic public building? Apple provided the city and community with an understanding, first, of its extraordinary, award-winning program that has rehabilitated historic buildings around the world, and then explained what a Global Flagship meant to Apple. The National Capital Planning Commission served as the lead agency for a highly successful ACHP Section 106 review for this D.C.-owned building. Today, you can buy Apple products at Carnegie, but you will do so surrounded by one of the city's best rehabilitation projects. Apple, despite being the building's tenant, not owner, ensured that every inch of the long misused and neglected building was addressed following the Secretary of the Interior's Standards, so that today people from all walks of life enjoy exhibitions, lectures, music, art projects, teacher training programs, kid-oriented activities, and opportunities to explore the many ways that products can be used to expand and enrich life experiences. The project also rehabbed the library, collections, and exhibition space used by the Washington Historical Society. This partnership with Apple has resulted in the DC History Center hosting hundreds of walk-in visitors each week, giving them the chance to reach a new audience and giving the audience the chance to learn more about D.C. Overall, this project has been met with resounding praise and support, serving as an example how a private-public partnership can result in a product which contributes to a city and one of which everyone is proud.

Can you tell us what you are working on right now?
Right now, I am working on the Folger Shakespeare Library as it begins a major project to make the building accessible to all. The property is listed in the National Register, but its interior is also protected by D.C. law, making any plan for change one that must be considered most carefully so as not to harm the original design. One of the most beautiful and thoughtful designs in the United States if not the world, the Library is the repository for the largest collection of First Folios and related documents, a working theatre, and an education center. Maintaining Henry and Emily Folger's vision is behind every decision at the Folger, and working with its brilliant and dedicated staff is one of my most exciting projects.

How do you think the national historic preservation programs help your community?
As the nation's capital, Washington is filled with federal buildings. The ACHP participates in many preservation decisions in the city, not only related to federal buildings and landscape but to some DC-owned and some private properties that are near federal buildings. The public review process inspires better projects and improves preservation outcomes. It gives everyone and anyone the opportunity to voice concerns, while achieving a balance between old and new.
Do you have advice for novice preservationists?
Two main things: First, decide what part of preservation you are truly interested in and become an expert in that. There are many people in our field and some can be successful as generalists, but it is a far better strategy to know a lot about all the different areas, but to have at least one area that you know very, very well. Are you interested in community activism? Do you want to guide sustainability efforts? Is research into the history of a building something that excites you? Do the legal requirements associated with preservation fascinate you? Archaeology? Evaluating landmark applications? Rehabilitating historic buildings or designing new buildings in historic districts?  Your interests can be combined if that makes sense to you. Having a solid background in architecture, history, science, whatever, can be blended with preservation and you will do a better job if you know more than process…just don't be a dabbler.
Second, know how to use the computer. Skills with programs such as InDesign, Excel, Photoshop, GIS, even social media, will help get your work done faster and better. Computers spread the word and well-designed and well-written messages do a better job than do sloppy ones.
The ACHP's mission is "preserving America's heritage;" can you give us an example of how your community is preserving its heritage?
D.C. has one of the strictest preservation laws in the country. It is applied every day, whether through landmark or historic district designation, review of permits for rehabilitation and alteration, or even review of potential demolition. Our city has a higher percentage of protected resources than any other major city in the U.S. As the nation's capital, our local history is entrenched in federal history. In fact, because of the number of federal buildings here, the ACHP plays a key role in our preservation effort every day as it calls for public review of proposals affecting these historic resources.
What about architectural history makes it unique in the preservation field?
This is a complicated question. Historically, the preservation movement was tied directly to buildings. Beautiful designs, meaningful patterns of building style, events that occurred within walls, people who were associated with a specific place…this is what preservation was. Today, it is understood to be so much more than just buildings: objects, sites, and districts followed, then the other resources such as roads and landscapes. But all that said, buildings are usually the conduit to the history that we seek to protect. This gives the architectural historian a unique role in preservation. However, it is important that we understand that architectural history goes beyond identifying a style or locating a date or an architect. The role of the architectural historian is to provide the historic context that is the key to understanding of a building and its setting—to explain how it fits into history. This means that we really need to understand, truly understand buildings and the process of planning, designing, and constructing that has created them if we hope to comprehend what is truly significant to our history. As cultural heritage grows in importance to the preservation community, there are a lot of questions related to how we should preserve buildings that are associated with that heritage. Architectural historians need to use their understanding of historic context to help answer these questions and direct appropriate approaches to preservation. Historians certainly share in this responsibility, but architectural historians hold the unique perspective and, therefore, the main obligation to address these issues for the future.
Read more Q&A stories about the Preservationists in Your Neighborhood!