Daniel J. Hoisington, Preservation Consultant, Roseville, Minnesota
Daniel J. Hoisington grew up in Wheaton, Illinois. In 1971, he received a Bachelor of Arts in history from Greenville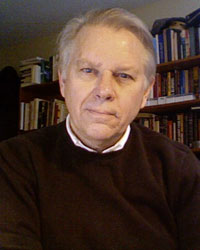 College, Greenville, Illinois, after which he studied religious history and social ethics as a Byington Fellow at Gordon-Conwell Theological Seminary. He earned a Master of Arts in American history from the University of Virginia, and completed course work for the Ph.D. degree. For 12 years he worked as a museum director, heading institutions in Massachusetts, Minnesota, Alabama, and Virginia. For three years, he served as president of the Bay State Historical League, the statewide organization of historical societies in Massachusetts.
In 1992, Hoisington founded a firm to provide consulting services to local historical organizations and preservation commissions. Among his notable preservation projects, Hoisington wrote the National Historic Landmark nomination for the U.S. Air Force Academy in Colorado Springs. He is the author of 12 books and numerous journal articles. In 1998 the Minnesota Society of Architectural Historians honored his book, Heritage: Preserving Eden Prairie's Past, with its David Gebhard Award. His 2004 book, A German Town: A History of New Ulm, Minnesota, received an award from the American Association for State and Local History. Most recently, he researched and developed an exhibit for the Brown County Historical Society, Never Shall I Forget: Brown County and the U. S. Dakota War of 1862, recognized with 2013 Award of Merit from the AASLH.
In recent years Hoisington has given presentations to the Minnesota State Historic Preservation Conference (2008), the Society for German-American Studies (2009), the National Trust Main Street Conference, (2010), and the Preserve America Conference (2013).
What led you to your field?
My parents, grandparents, and great-aunt always supplied me with books and I grew up in the Land of Lincoln, so that made me a Civil War historian from an early age. My parents, in particular, made sure that we visited historic homes and battlefields. After earning my M.A. at the University of Virginia, I became director at a historic home, Castle Hill, just outside of Charlottesville, and thought how wonderful it was to work with history in the real world. As James Baldwin wrote, "American history is longer, larger, more various, more beautiful, and more terrible than anything anyone has ever said about it."
How does what you do relate to historic preservation?
WWWD. That's "What would Wendell do." For years, decades now, I've appreciated the writing of Wendell Berry and, taking my cue, have focused on the preservation of local culture -- places and stories. I write NRHP and NHL nominations, books, exhibit installations, and outdoor interpretive plans. My work is primarily in small- and medium-sized towns in the Midwest -- as small as 500 people and as large as 20,000. I work with local HPCs and historical societies to preserve and interpret their history -- and the journey has taken me from the home of John Hale in Beverly, Massachusetts, to the little town of Henderson, Minnesota, where Ray Oldenberg first learned about the Third Place, and to the Princess Theatre in Urbana, Illinois, where Roger Ebert first fell in love with the movies.
Why do you think historic preservation matters?
Historic preservation is more than saving old buildings. It weaves together the fabric of a community. If we share our stories -- either through museums, education, tours, or buildings -- it gives us a common bond. From that bond, we develop trust, and from that trust comes civil public dialogue.
What courses do you recommend for students interested in this field?
Of course, architectural history is essential, but context is important -- how to read a neighborhood or a landscape. For example, I've picked up some new ideas about the suburbs reading the work of John Archer, a fellow Minnesotan. And I highly recommend an oral history course. We need to practice listening. It helps to bridge the gap between classroom knowledge of the Secretary of the Interior's Standards and the person who loves his local school and wants to see it saved.
Do you have a favorite preservation project?  What about it made it special?
In the past few years, I've served on the board of two nonprofits in New Ulm, Minnesota, both involved with historic preservation projects. The Grand Center for Arts and Culture is just now completing a $2.5 million renovation of its home, the 1875 Grand Hotel. We used both federal and state tax credits, working closely with Citizens Bank in a cooperative arrangement. New Ulm had a strong tradition in the arts -- visual, theatrical, and musical -- and we are now able to offer a central place for those activities. The community is a Minnesota Main Street City, so it is one more piece toward building a lively, active downtown.
I am also on the board of New Ulm Turner Hall. In the 19th century the Turners were the most important secular organization of German Americans, with halls in hundreds of cities across America. New Ulm was settled as a Turner colony, as some German Americans looked to get away from the attacks on their culture during the 1850s. It remains, according to the census, the most German city in America. Our building is the oldest Turner Hall in the country still in its original use -- and it still continues its same mission. It holds the oldest operating bar in Minnesota as well as the oldest gymnastics program. That might seem contradictory to our sensibilities, but not to a 19th century German immigrant! In recent years we have rehabilitated the historic building under the Secretary of the Interior's Guidelines and improved access with an elevator. We just completed conservation work on some magnificent murals, painted in 1873. The place is truly living history -- keeping not just the place alive, but the culture as part of everyday life.
Can you tell us what you are working on right now?
Recently my primary goal has been to explore ways to creatively connect people with the past. In the past few years, I've completed video walking tours for smart phones and social media -- pastcasts, I call them -- for several Preserve America cities, including Faribault, St. Cloud, and Red Wing, Minnesota, as well as Urbana. Illinois. Right now, I'm working on a tour of some of the wonderful homes in Stillwater, Minnesota. It's really just visual storytelling. I also hope to test out some new technology to replace "old-fashioned" QR codes.
The pastcasts catalogue can be seen at http://www.youtube.com/user/EdinboroughPress. I'm also blogging at www.pastcasts.com.
How do you think the national historic preservation programs help your community?
I've seen three national programs make a big difference -- the tax credits, Preserve America, and the National Register of Historic Places. The tax credits continue to be one of the best tools to encourage local investors to rehabilitate historic properties. Several nearby communities benefited from Preserve America programs since they laid the groundwork for the interpretation and promotion of local history. And I've had the opportunity to attend many local ceremonies where people are gathered to unveil a new NRHP plaque. It is important to gain recognition for the importance of local history. I'll add one more -- in New Ulm, the American Battlefield Protection Program has helped to locate and map sites related to the U.S.-Dakota War of 1862.
The ACHP's mission is "preserving America's heritage;" can you give us an example of how your community is preserving their heritage?
I'm finishing up writing a history of Eagan, Minnesota, since World War II -- a place just south of the Twin Cities that grew from a sparsely populated rural township in the 1950s and 1960s into the state's eighth largest city today -- the classic suburban story. People ask, "History? Eagan?" But when the 1914 town hall suffered a fire only a few weeks ago, the fire department responded quickly, yet carefully, saving the structure, and the next day, dozens of volunteers came out to help carry historic photos and artifacts that were in the building to a safe place for conservation.
Read more Q&A stories about the preservationists in your neighborhood!