Carl D. Halbirt, City Archaeologist, St. Augustine, Florida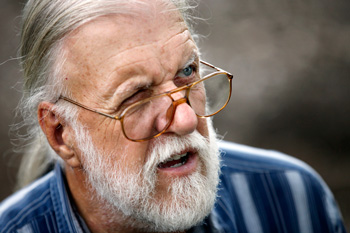 Carl D. Halbirt head shot (2013)--courtesy Daron Dean (The St. Augustine Record)
Carl D. Halbirt has been the city archaeologist for St. Augustine, Florida, since April 1990. He implements the mandates set forth in the city's Archaeological Preservation Ordinance. Halbirt has more than 40 years' experience in the field of archaeology, working initially in the American Southwest for 16 years where he received a Bachelor of Arts in anthropology from the University of Arizona (1974) and a Master of Arts in anthropology from Northern Arizona University (1985). Halbirt also has a Master of Public Administration from the University of North Florida (2004). Since arriving in St. Augustine, Halbirt has conducted more than 725 archaeological investigations within the city limits. Although most investigations focus on the historic era (1565 to the early 20th century), some deposits date back into prehistory. The data unearthed have enabled Halbirt to gain a unique perspective regarding St. Augustine's built environment and its multi-ethnic composition and their interactions over the past 450 years. The goal of the city archaeologist is to preserve St. Augustine's unique cultural heritage through documentation prior to the continual urbanization that characterizes the city's ever-changing landscape. For these 25-year-long efforts, as well as developing a vibrant volunteer program, Halbirt has received numerous awards including the Distinguished Service Award from the Florida Trust for Historic Preservation (2015) and the Ripley P. Bullen Award from the Florida Anthropological Society (2008).
What led you to your field?
I was fascinated by relics and dinosaur remains as a young boy, which eventually led to a career in archaeology.
How does what you do relate to historic preservation?
Archaeology and historic preservation share the same goal: to preserve the nation's cultural heritage. The only difference is the techniques used and the outcomes generated. The intent of archaeological work undertaken by the City of St. Augustine is to preserve the city's buried heritage through documentation both prior to and during ground-penetrating construction activities. This policy is carried out under the auspices of the City's Archaeological Preservation Ordinance, which was passed by the City Commission in December 1986. Since 1987 more than 750 archaeological projects have taken place preserving information that otherwise would have been destroyed during construction activities.
Why do you think historic preservation matters?
Historic preservation is crucial for a country or municipality to maintain its sense of identity and cultural continuity. The various fields of historic preservation (architecture, archaeology, planning, etc.) provide visual conduits to the past and explanations as to what those tangible remains represent.
What courses do you recommend for students interested in this field?
Anyone interested in historic preservation needs to take introductory courses in the various fields involved with historic preservation while engaging in core courses related to their specific field of interest. This will provide them with a broader frame-of-reference and increased sensitivity to other components of the nation's cultural heritage.
Do you have a favorite preservation project? What about it made it special?
I don't have a specific project that I consider to be a favorite. Every time I undertake an investigation I learn something about St. Augustine's unique heritage: be it positive or negative evidence. Certain projects have engaged the public's imagination (such as the disarticulated donkey or the discovery of the 19th century public well in the Plaza). Based on the archaeological evidence and a historic 1880 photo, the well (1823 to 1881) was reconstructed in 1996 and is now one of a series of historic monuments presented in the Plaza.
Can you tell us what you are working on right now?
Currently, I am in the process of preserving the bones of a small horse dating to the turn of the 19th century (1790 to 1810). The horse was buried behind the headquarters of the dragoons, a mounted cavalry unit that was in St. Augustine during the Second Spanish Period (1784-1821).
How do you think the national historic preservation programs help your community?
National historic preservation programs are essential to municipalities. They provide the funding and technical support to engage in various types of projects, recognition for projects undertaken by a community and, by extension, pride in those accomplishments, and legal precedents enabling communities to preserve their heritage.
Do you have advice for novice preservationists?
Bend, but never waiver, in what you believe is the right policy and activity to preserve the nation's cultural heritage. You may have to compromise, but don't feel defeated.
The ACHP's mission is "preserving America's heritage;" can you give us an example of how your community is preserving its heritage?
The City of St. Augustine has been a Preserve America Community since 2004. For more than 70 years the city has taken steps to preserve its unique heritage including policy documents relevant to architectural designs within designated sections of the city and criteria for archaeological investigations as a result of ground-penetrating construction activities within selected areas of the city. The city has some of the most rigorous preservation guidelines in the state of Florida.
How does archaeology play a role in historic preservation?
First of all, archaeology is embedded into the city's Historic Preservation Element of the Comprehensive Plan and, as such, is a consideration in most building permit applications. All new construction is evaluated for potential impacts to archaeological remains based on vetted criteria. Those projects found to have the potential for impacting buried archaeological deposits are subject to an investigation. Second, trough documentation information is constantly being expanded relevant to our understanding of past lifeways and the growth and development of the community. In turn, this information results in a greater appreciation of the community's heritage and adds a new dimension toward historical authenticity. It also promotes community pride and ownership of its heritage and empowers people to become proactive in preserving that past.
Read more Q&A stories about the preservationists in your neighborhood!