Term of Office:
2023-2025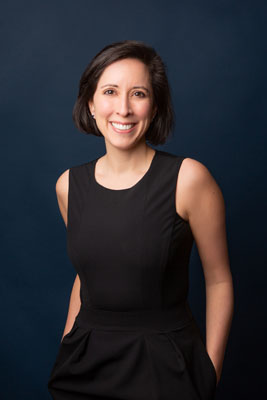 Sara C. Bronin was confirmed by unanimous consent by the United States Senate in December 2022 to serve as the 12th chair of the Advisory Council on Historic Preservation. A Mexican American, she is the first person of color to serve in this position.
Prior to her confirmation, Chair Bronin spent her career as a professor and public servant. Her interdisciplinary research in the areas of property, land use, historic preservation, and energy has focused on how law and policy can foster more equitable, sustainable, well-designed, and connected places. She has published five books and treatises and dozens of articles, book chapters, and shorter works on these topics. She also founded the National Zoning Atlas, which aims to translate and standardize information about how zoning regulates housing in around 30,000 jurisdictions nationally.
While chairing the ACHP, she is on leave from her tenured position at Cornell University, where she serves as Professor in the College of Architecture Art & Planning, Professor in the Rubacha Department of Real Estate, an Associate Faculty Member of the Law School, and a member of the Graduate Faculty in the Field of Architecture. At Cornell, she founded and directs the Legal Constructs Lab, serves as a faculty fellow of the Atkinson Center for Sustainability, and is an affiliate of the Cornell Center for Social Sciences. She has also held visiting positions at the Yale School of Architecture and the University of Pennsylvania Kleinman Center for Energy Policy.
Among other nonprofit service, she has served as an advisor to the National Trust for Historic Preservation and the Sustainable Development Code, served on the board of Latinos in Heritage Conservation, and founded Desegregate Connecticut. In addition, she chaired Preservation Connecticut and led the nationally recognized efforts of the City of Hartford to draft and adopt a climate action plan, city plan, and zoning code overhaul. In addition, Chair Bronin has consulted for public and private entities, including on zoning reform, project construction, and litigation strategy.
Chair Bronin received a J.D. from Yale Law School, where she used her Harry S Truman Scholarship for Public Service. She received an M.Sc. in Economic and Social History from the University of Oxford, where she was a Rhodes Scholar. She received a B.Arch. and B.A. in the Plan II Liberal Arts Honors Program from the University of Texas at Austin.                                                                   
Chair Bronin is a seventh-generation Texan, born and raised in and around Houston. She is the daughter of a public school teacher and civil engineer, and she grew up working in her grandparents' Mexican restaurant.