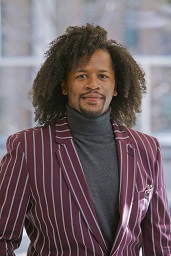 The Advisory Council on Historic Preservation (ACHP) and the ACHP Foundation 21st Century Preservation Leaders Fellow for 2023 Matthew Kenyatta, PhD today began his fellowship in Washington, DC. Dr. Kenyatta is the first Fellow in this new program designed to promote diversity in the leadership ranks of the national historic preservation movement. The fellowship is six months.
"The ACHP's past Vice Chairman Dr. Clement Price encouraged the ACHP to find ways to utilize historic preservation to encourage social justice and equality, thereby building a more inclusive preservation program," ACHP Vice Chairman Jordan Tannenbaum said. "We have used the recommendations from this initiative to develop preservation programs with the White House, National Park Service, Forest Service, and Salish Kootenai College to engage students from Historically Black Colleges and Universities and Tribal Colleges and Universities. Taking Dr. Price's words to heart, we are excited to work with Dr. Kenyatta on developing programs that address equity and justice in historic preservation."
Dr. Kenyatta holds a bachelor's degree with honors in Urban Studies and African & African American Studies from Stanford University, a Masters of City Planning in Environmental Policy and Planning from the Massachusetts Institute of Technology, and a doctorate in Urban Planning and Development from the University of Southern California. He was appointed as a Provost's Postdoctoral Fellow in the University of Pennsylvania Stuart Weitzman School of Design's Department of City Planning as a researcher and lecturer in Architecture, and in 2021 he was appointed as the school's first Director of Justice & Belonging Initiatives. He serves as the youngest member of the Philadelphia Art Commission.
"It was not until my postdoctoral fellowship that I became immersed in the historic preservation movement and profession as a positive force for change," Kenyatta said. "Becoming a 21st Century Leaders Fellow will help me put a finer point on 'preservation' to unite my interests in storytelling, spatial justice, and technology."
ACHP Foundation Chairman John Fowler touted the benefits of the program. "The 21st Century Preservation Leaders Fellowship is a partnership between the ACHP and ACHP Foundation to bring an emerging leader to Washington, D.C. to experience firsthand how historic preservation policies and programs are shaped and executed at the national level," he said. "We developed this high-level, hands-on immersion to provide a comprehensive understanding of historic preservation policy, build leadership skills, and prepare the Fellow for an impactful role in historic preservation."
Established by the 1966 National Historic Preservation Act, the ACHP is an independent federal agency whose mission is to promote the preservation, enhancement, and sustainable use of the nation's diverse historic resources and to advise the President and Congress on historic preservation policy. The ACHP Foundation was established to support the work of the ACHP through a variety of partnership activities.
For further information, contact ACHP Foundation President Katherine Slick at achpf@achpfoundation.org.