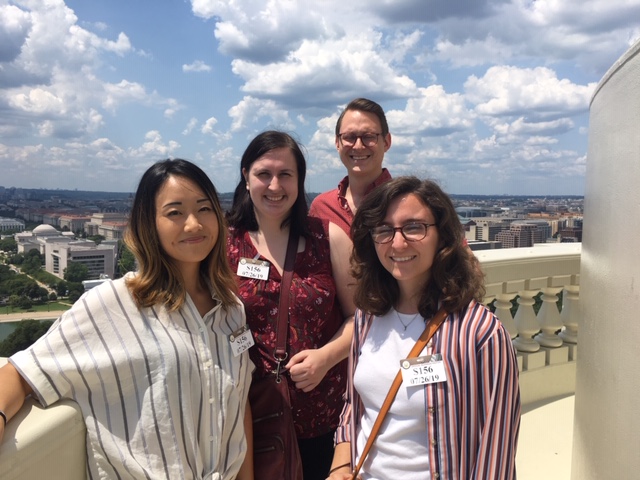 How to Apply – Deadline February 11, 2022
Interested applicants should apply using this form and a resume. Save the filled-out form on your computer as a pdf to retain what you have entered and then attach it to an email along with your resume.  Send to Judy Rodenstein, Internship Program Coordinator, at jrodenstein@achp.gov. 
Summer 2022 Projects
Relevant skills include strong research, writing, and organizational ability; the ability to work independently and collaboratively; comfort with contacting and interviewing people by phone; and experience with developing and managing content for the Web and social media. Some familiarity with historic preservation is desirable, but not required unless specified.
The Office of General Counsel (OGC) is seeking a second year law student to complete two independent research projects: (1) developing best practices and lessons learned on how to assess cumulative effects in the National Historic Preservation Act's Section 106 review, and (2) developing best practices and lessons learned on how to comply with the National Historic Preservation Act's Section 110f based on case law and past Section 106 reviews. For both projects, the legal intern would research relevant case law, regulations, and agency guidance, as well as past agency compliance with Section 106, to develop memoranda to instruct Section 106 practitioners. In addition to these projects, the legal intern would participate in other legal work as needed. 
The Office of Preservation Initiatives is seeking a summer intern to do research related to current preservation policy issues, such as climate change and historic preservation, or equity and inclusion. The intern will explore setting up focus groups, possibly drawn from a broad range of Preserve America Communities, to get grass roots input on ACHP's work on these and other emerging priorities. With insight into his or her fellow students, the intern will also help update and expand the recruitment and application process for ACHP internships. This may include developing direct outreach to student groups, in addition to reaching students through their academic programs and other current methods.
The Office of Communication, Education, and Outreach is seeking two part-time interns to:
research and develop materials highlighting the importance and benefits of historic preservation for all Americans, including engagement with a wide range of communities, organizations, and educational institutions representing more diverse audiences;

develop outreach strategies tailored for a variety of audiences, including Congress, young audiences, preservation partners, and the general public; and            

suggest ideas, do research, and draft content for the ACHP Web site and social media. The intern will help expand the agency's social media presence by getting involved with Instagram takeovers, writing posts for Facebook, taking pictures for social media platforms, and more. 
The Office of Federal Agency Programs is seeking a part-time, graduate-level intern to assist with analysis of agreements executed under the requirements of Section 106 of the National Historic Preservation Act. The intern will conduct research about mitigation measures in agreements formalizing commitments federal agencies make to resolve adverse effects to historic properties from planned federal and federally assisted projects. The intern will gather information from various preservation constituencies, such as State and Tribal Historic Preservation Offices, federal agency officials, and preservation advocates. With direction from senior program staff, the intern will identify successful examples and document patterns for use in guidance, training, and other ACHP technical assistance products. A working knowledge of Section 106 and federal preservation programs such as the National Register of Historic Places is preferred. This project will also offer chances to interact with ACHP staff in their roles in Section 106 case review. 
Past interns say…
"I loved how friendly and welcoming everyone was. Even though it's a federal agency, it's small enough that you can easily meet people and learn about what they do. I also appreciated how flexible the ACHP was in making my internship project work for my graduate program, and I felt like I was doing substantive work, both with the work directly related to my project, and the everyday work that I did. 
Diana Maxwell, Senior

Grants Manager, National Trust for Historic Preservation
"I was not only afforded the opportunity to immerse myself in preservation law and policy at the national level, but my eyes were also opened to a wealth of interesting possibilities throughout the preservation world. My supervisor was incredibly instrumental in helping me draft my research, cultivate professional connections, and explore opportunities for success in my prospective career."
Jonathan Stark-Sachs, Office of General Counsel Intern (2019), J.D. /M.S student, Law and Historic Preservation
"I highly recommend the ACHP internship program to any student or emerging professional interested in government, history, urban/community planning, architecture, or cultural studies; all will find relevant and valuable experiences with the ACHP. Staff members in the small agency are a close-knit group and provide personal, one-on-one guidance to interns.  The ACHP is genuinely interested in helping interns develop professionally and provides many opportunities to do so."  
Emily Sisler,

Planner, City of Hendersonville, NC