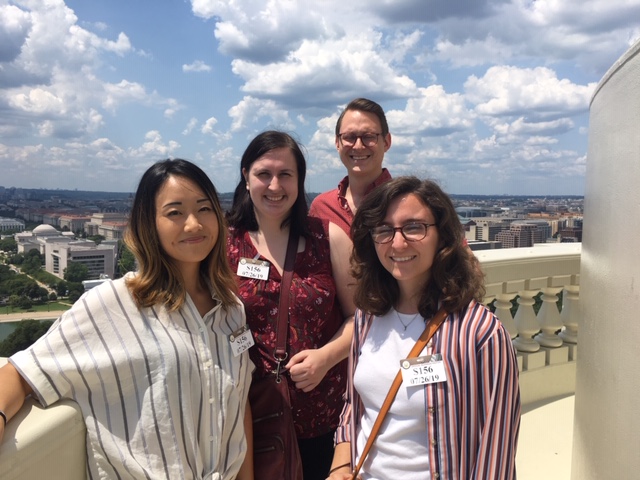 How to Apply – Deadline February 12, 2020
Interested applicants should apply using this form and a resume. Save the filled-out form on your computer as a pdf and then attach it to an email along with your resume.  Send to Judy Rodenstein, Internship Program Coordinator, at jrodenstein@achp.gov. 
Potential Summer 2020 Projects
Interns support emerging priorities through work with the Offices of Communications, Education, and Outreach; Federal Agency Programs; General Counsel; Native American Affairs; and Preservation Initiatives, and may:
Research and develop materials highlighting the importance and benefits of historic preservation for all Americans. Help develop outreach strategies and communication tailored for a variety of audiences, including Congress, young audiences, preservation partners, and the general public. (OCEO)

  

                  
Suggest ideas and research and draft content for the ACHP Web site and social media. Help expand the agency's social media presence.  Assist with event planning and execution.(OCEO)
Assist in the development of Section 106 training courses, including participating in the updating and adaptation of existing webinars to an e-Learning format. Based on your knowledge of PowerPoint, learn how to use the e-Learning software (Articulate 360) to produce courses for posting on the ACHP's Learning Management System. Assist in the development of content for new training webinars and the preparation of fact sheets or other publications to educate federal agency staff, preservation professionals, and other stakeholders about Section 106-related topics. Interact with and assist staff in their roles in Section 106 case review. (OFAP)
Compile a comprehensive legislative history of the tribal and Native Hawaiian provisions in the National Historic Preservation Act with specific attention to the definition and use of key terms such as Indian tribe, tribal land, and properties of religious and cultural significance. Compare the NHPA

'

s development and use of such terms, including their incorporation in the Section 106 regulations, to other related laws such as the Native American Graves Protection and Repatriation Act and the Indian Self-Determination and Education Assistance Act.  (OGC/ONAA)
Assess the policy and compliance implications for governmental and tribal practitioners operating under these laws. Identify key differences and areas of potential conflict. Identify areas where additional guidance would be useful. 

(OGC/ONAA)
Research and help develop new material related to current preservation policy initiatives as well as the impact of past Preserve America grants.

(OPI)
Assist with enhancing and updating online content, archiving program documentation, and acquiring current contacts, images, and program examples. (OPI)
Relevant skills include strong research, writing, and organizational ability; comfort with contacting, meeting, and interviewing people by phone or in person; experience with developing and managing content for the Web and social media; and the ability to work independently and collaboratively. Some familiarity with historic preservation is desirable, but not required.  The OGC/ONAA projects are best suited to a law student.
Past interns say…
"I loved how friendly and welcoming everyone was. Even though it's a federal agency, it's small enough that you can easily meet people and learn about what they do. I also appreciated how flexible the ACHP was in making my internship project work for my graduate program, and I felt like I was doing substantive work, both with the work directly related to my project, and the everyday work that I did. 
Diana Maxwell, Senior

Grants Manager, National Trust for Historic Preservation
"One of the best parts of my internship at the ACHP was the opportunity to learn about preservation across the entire country. Reading about communities and projects in Colorado, Alaska, and American Samoa really opened my eyes to the diversity of preservation in the United States.
"From a practical side, the internship taught me valuable skills for any job, including program management, agency interaction with the public, and writing for specific audiences. I translate the knowledge I gained about the National Historic Preservation Program into my current position.
"It was great working alongside the staff at the ACHP, as I was treated as a fellow staff member and not just an intern. They allowed me to take initiative on certain projects"
Raina Regan,

Senior Manager, Easement Program, National Trust for Historic Preservation
"I highly recommend the ACHP internship program to any student or emerging professional interested in government, history, urban/community planning, architecture, or cultural studies; all will find relevant and valuable experiences with the ACHP. Staff members in the small agency are a close-knit group and provide personal, one-on-one guidance to interns.  The ACHP is genuinely interested in helping interns develop professionally and provides many opportunities to do so both within the agency itself and throughout the DC arena."  
Emily Sisler,

Planner, City of Hendersonville, NC