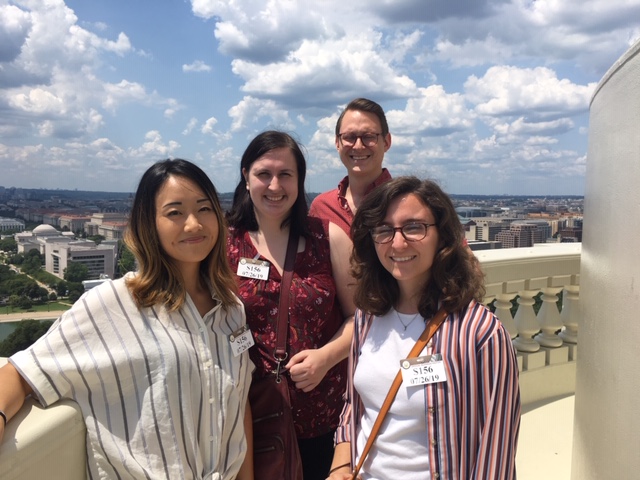 How to Apply – Deadline November 18, 2022
Interested applicants should apply using this form and a resume. Save the filled-out form on your computer as a pdf to retain what you have entered and then attach it to an email along with your resume.  Send to Judy Rodenstein, Internship Program Coordinator, at jrodenstein@achp.gov. 
Spring Semester 2023 Openings
The Office of Federal Agency Programs is seeking a 20 hour/week intern to support the agency's training program on Section 106 of the National Historic Preservation Act. The internship will be supervised by Training Specialist Katry Harris.
The internship's projects will be aligned with the ACHP's current emphasis on historic preservation workforce development and strengthening connections with graduate and university programs. Assignments may include surveying graduate programs about their curriculum or learning interests in Section 106, working with staff to improve the Section 106 Essentials classroom course for students and interns as well as improving various Section 106 webinars, and/or converting the course or parts of it to e-Learning courses that could be promoted with graduate programs.
The culmination of that effort will be two live sessions of the Section 106 Essentials classroom course in mid-June (exact times/dates TBD). One of those sessions will be held in ACHP's Washington, DC, offices if circumstances allow, and the other will be presented virtually. If necessary, both sessions will be presented virtually. The intern will be expected to participate in presenting the course, either in person and/or on Zoom. If in person, travel expenses will be subsidized. During the DC visit, the intern would have the opportunity to meet ACHP staff and do an end-of-term presentation.
The intern will supply their own digital resources (computer, internet, etc.) to communicate with ACHP staff, post files, and work in cloud-based software. 
Those applying for the internship should have an awareness of Section 106 of the National Historic Preservation Act, have a career interest in working with federal historic preservation programs, be proficient in using digital meeting software and PowerPoint, and be willing to learn new eLearning software. Experience as a teaching assistant, in secondary education, and/or in conducting and analyzing systematic interviews or surveys would be a plus. The selected intern will earn a certificate of completion for the Section 106 Essentials course, suitable for inclusion in applications for jobs in Section 106 in the federal, tribal, state, local, or consulting sectors. The selected intern will also have the opportunity to observe Section 106 consultation meetings and network with a variety of preservation professionals.
Past interns say…
"I loved how friendly and welcoming everyone was. Even though it's a federal agency, it's small enough that you can easily meet people and learn about what they do. I also appreciated how flexible the ACHP was in making my internship project work for my graduate program, and I felt like I was doing substantive work, both with the work directly related to my project, and the everyday work that I did. 
Diana Maxwell, Senior

Grants Manager, National Trust for Historic Preservation
"I was not only afforded the opportunity to immerse myself in preservation law and policy at the national level, but my eyes were also opened to a wealth of interesting possibilities throughout the preservation world. My supervisor was incredibly instrumental in helping me draft my research, cultivate professional connections, and explore opportunities for success in my prospective career."
Jonathan Stark-Sachs, Office of General Counsel Intern (2019), J.D. /M.S student, Law and Historic Preservation