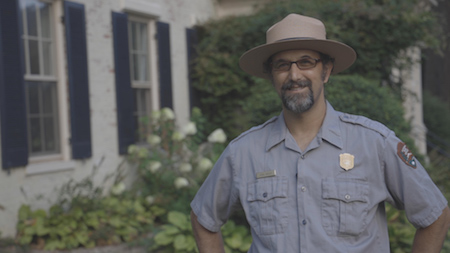 Moss Rudley has provided the following biographical information:
"Born in Greenbrier County, West Virginia, I was raised on a working cattle farm that contained numerous historic vernacular structures. I became exposed to the trades and historic preservation field through the care of hand-hewn log structures of Scots-Irish and German notching and construction techniques. I worked with my father to performing historical surveys in southern West Virginia for the State Historic Preservation Office. I attended Shepherd College in Shepherdstown, West Virginia and received Degree's in Business Administration, Civil Engineering and Culinary Arts.
"I then came to the National Park Service's Historic Preservation Training Center (HPTC) in 2000 as a tradesperson, I entered into the Exhibits Specialist Training Program in 2004 assigned to the Masonry Division. I received my certificate in 2007 and was promoted to a staff Exhibits Specialist with the Masonry division. In 2011, I was selected as Supervisory Exhibit Specialist of the Masonry Division. On June 15, 2015, I was selected as the Deputy Superintendent and in 2017 was promoted to Superintendent, the fourth Superintendent of the HPTC.
"I currently reside with my wife Gale and our two daughters, Opal age 12 and Zion age eight, and our one year old son Nash in Hedgesville WV. I continue to support historic preservation through outreach with community preservation organizations, local universities, and training sessions."