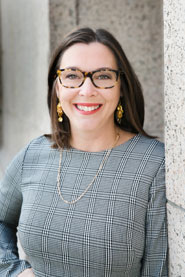 Term of Office:
2017-2021
Aimee Jorjani earned Senate confirmation in June 2019 as the first full-time chairman of the Advisory Council on Historic Preservation (ACHP). She was nominated by President Donald J. Trump.
Ms. Jorjani has nearly 20 years of experience in the fields of government and cultural resources from a variety of perspectives including both executive and legislative branches, as well as the non-profit sector. Her career began on Capitol Hill in 1999 working as a legislative aide to Rep. Paul Ryan (R-WI). In 2002, she moved to the US Department of the Interior (DOI) and held several positions, including serving as the Deputy Secretary's Special Assistant for Historic Preservation.
During her tenure at DOI, Ms. Jorjani worked as a Special Assistant to the Assistant Secretary for Policy, Management and Budget; Special Assistant to the US Fish and Wildlife Service Director; and a principal to the Deputy Secretary. Simultaneously, between 2003-2009, Ms. Jorjani managed all the Deputy Secretary's responsibilities as Co-Chair of the White House's interagency Preserve America initiative.  Due to those efforts and working with the National Park Service, the initiative evolved into a congressionally authorized grant program funding more than $20 million in competitive local, state, and tribal heritage tourism-related projects. 
While partnering closely with the ACHP, the initiative's grassroots support expanded with hundreds of Preserve America Communities designated in all 50 states and US territories. By 2006, the Preserve America role evolved to full-time position as the Deputy Secretary's Special Assistant for Historic Preservation when the first of seven rounds of grants were established and awarded and a national Preserve America Summit took place resulting in recommendations and actions for improvements to the national preservation program. Ms. Jorjani served as DOI's first Department-wide Historic Preservation Officer, coordinating efforts to comply with Executive Order 13287 and engaging DOI's bureau Federal Preservation Officers and regional staff.
After leaving DOI, Ms. Jorjani participated as a member of the federal historic preservation program task force, and was a member of the boards of Preservation Action and the National Preservation Institute. She has consulted for a variety of projects, including the Historic Preservation Fund's reauthorization efforts, 2016 National Preservation Advocacy Week, and various preservation-related outreach and interpretive efforts. 
A native of Milwaukee, Wisconsin, Ms. Jorjani graduated from Northern Michigan University with a major in political science and minor in public relations and later earned a Masters in Historic Preservation from Goucher College. She received the McCullough Award for Best Masters Thesis titled "Seeking and Determining Impacts: Justifying Federal Competitive Historic Grant Programs." 
Ms. Jorjani and her husband, Daniel, have three children and live in Falls Church, Virginia. 
You can follow Chairman Jorjani on Twitter @ACHPChairman.